Lower Pearl River Valley Foundation Provides $40,000 Grant to USM Children's Center
Wed, 03/15/2023 - 10:45am | By: Courtney Tesh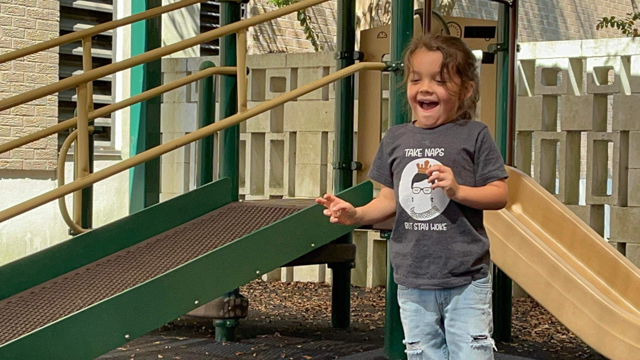 This funding makes a great impact on the services that the Center is able to provide in the LPRV region and has helped ensure they continue at no cost to the families that need them.
The Pagan-Flores family is one of those families, and for them, the impact has been substantial. Emile Flores began receiving services from The Children's Center at the age of 3. At that time, Emile did not have a diagnosis, but his mother had noticed several characteristics common with a diagnosis of autism. Emile did not play with toys or sit with his mom to read a book. When he first began coming to the Center, he spent most of his sessions walking around the room, seeking out red items and lines, and clapping his hands as he walked.
"We tend to put the focus on the successes of our little ones, sharing those milestones met or those moments when, through therapy, they defy the odds or overcome major obstacles," said Sarah Myers, Director of The Children's Center. "And of course, we do. It makes sense that this would be our focus – when our children progress and reach their goals, we are so excited that we can't wait to tell the world about it. But it's just as important to acknowledge the struggles, the rough starts, the hiccups along the way."
Emile is a shining example of a rough start turned success story. His first sessions at The Children's Center were filled with tears. For Emile, separating from his mom was very difficult. "I was so thankful, in those early days, to have the opportunity to follow shortly behind my son and watch his sessions through the observation room," said Melissa Pagan, Emile's mom. "Not only was I able to make sure that he was safe, but I was also able to learn so much about my child's therapy and how to carry it on at home."
Once in the therapy room, Emile would not acknowledge anyone else in the room, and would mostly walk back and forth, clapping his hands together. He did not communicate verbally and showed no interest in playing or taking part in activities.
But, as challenging as therapy was, Emile and his family kept coming back. His mom knew that her son needed help and trusted that his therapy team was committed to helping him progress. Over the next several months of therapy, parent coaching, and lots of hard work (especially on the part of Emile), his team and his family noticed significant changes.
He began trying new things – sliding, swinging, jumping. He started engaging with others. And coming to therapy was no longer a chore. The tears were replaced with smiles as he began to enjoy his sessions and look forward to coming. And The Children's Center helped Emile's family obtain the testing needed to confirm an autism diagnosis.
Now, 15 months later, Emile's mom says that as they pull up to the Center, he is excited and eager to get out of the car and come inside. He plays with his therapists and familiar friends, tossing a ball back and forth, grabbing his therapist's arm to lead her to join him in an activity, and even communicates verbally in the form of "ready, set, go," or the like. He has made great strides in the areas of communication, play, and social skills. And the impact of these skills on his future cannot be overstated.
"We are so thankful for The Children's Center," said Pagan. "They have helped my son Emile tremendously. He now looks forward to his sessions every week. Whether it's learning how to use his AAC (augmentative and alternative communication) device or how to make transitions more easily, the skills he learns here are tremendously beneficial to both him and our family."
"Early intervention therapy is incredibly impactful and quite literally life changing," said Myers. "Emile and his family are just one example of the difference our services make in the lives of families in the Lower Pearl River Valley region every day. And we are able to provide these services at no cost in part thanks to the funding we receive from LPRVF. The effect that this funding has on the families we serve is invaluable, and we are so grateful for their generosity."
Since 1974, The Children's Center has led Mississippi in early intervention services for infants, toddlers and preschoolers with significant disabilities. Approximately 130 children receive services each year, representing a range of disabilities, such as Down syndrome, hearing loss, cerebral palsy, Autism, Rett syndrome, traumatic brain injuries, aphasia, apraxia, and conditions related to premature birth.
Mr. Clyde Dease Jr., Foundation President and CEO said, "We are pleased to partner with USM through The Children's Center for Communication and Development where special needs children are given an opportunity to grow and develop to their full potential."
The Children's Center customizes comprehensive educational and therapy plans to support each child in achieving his or her maximum potential. Communicative and developmental transdisciplinary services are provided to children while educating, training and supporting their families, university students and professionals.
About The Children's Center for Communication and Development
The Children's Center for Communication and Development at The University of Southern Mississippi is a non-profit that provides cost-free comprehensive early intervention therapy for children age 0-5 with complex disabilities while educating, training and supporting families, university students and professionals.