USM Doctoral Graduate Chosen to Present Marine Research at Prestigious Symposium
Mon, 01/23/2023 - 04:01pm | By: Van Arnold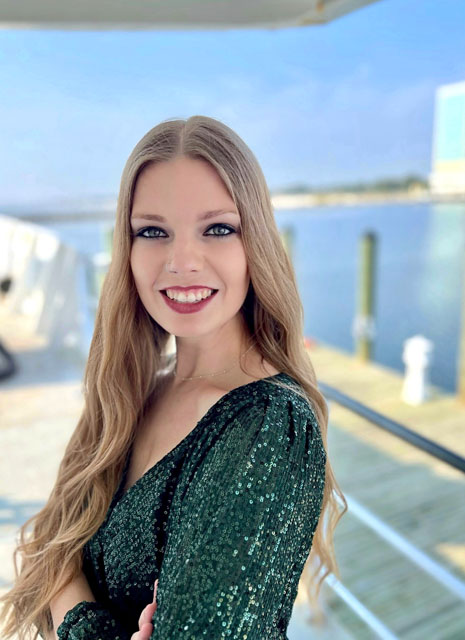 Dark secrets often lie beneath the vast seas. So too reside communities of bacteria that pique the interest of recent University of Southern Mississippi (USM) doctoral graduate Rachel Mugge.
Mugge, who completed her doctorate last month, experienced a unique opportunity to share her research on marine biofilms during the DARPA (Defense Advanced Research Projects Agency) Risers event at the DARPA Forward conference held in San Diego, Calif. The Riser cohort included 30 early career scientists from across the country. DARPA serves as a research and development agency of the United States Department of Defense.
Mugge was invited to the event after earning selection as a DARPA Riser in 2022. The participants presented posters on their work to DARPA program managers and University of California San Diego faculty during five, 15-minute rounds. Scores were tabulated and the top five advanced to a five-minute lightning presentation. Mugge's research was titled: Microbiome Signal Propagation of Marine Biolfilms from Steel Structures on the Seabed.
"Quite frankly, I was shocked to be selected in the top five, because I met other Risers – early career scientists – who were also doing innovative research," said Mugge. "I also felt extremely proud to be the only female in the top-five group."
A Columbus, Ohio native, Mugge earned her Bachelor of Science in Biology at Oral Roberts University (2016) and her Master of Science in Coastal Sciences from USM (2018). She spent the previous six years working in the laboratory of Coastal Sciences Professor Leila Hamdan, who also serves as the Associate Vice President for Research, Coastal Operations, at USM.
As a Ph.D. student, Mugge worked with Hamdan on a project funded by DARPA to study microbiome signal propagation across the seabed by collecting and analyzing sediment and biofilm samples.
"My involvement with the project included working with Dr. Hamdan and other lab members on the experimental design, field work including going offshore to deploy and recover seafloor experiments to collect biofilms and analyzing the data to present our results to DARPA," said Mugge.
Mugge explains that her field of study is marine microbial ecology, with a prevailing interest in microbial biodiversity and function in the deep ocean.
"Much of the deep ocean remains underexplored, but the field of marine microbial ecology has rapidly expanded in recent decades," she said. "I am very much curious about continuing to explore the unknown through the lens of microbial ecology."
Mugge notes that her focus area is marine biofilms, which are communities of bacteria attached to submerged hard surfaces. More specifically, she studies biofilms near built structures on the seabed. The marine built environment encompasses many structures that humans have intentionally, or unintentionally, placed on the seabed, such as oil platforms and pipelines, artificial reefs, and shipwrecks.
"There is an abundance of structures in the northern Gulf of Mexico," said Mugge. "Microbes have the ability to rapidly respond to changes in their environment, so my research for this DARPA project and my dissertation was centered around studying microbes in marine biofilms to begin to understand if and how the biofilm microbiome responds to the presence of structures on the seafloor, and surrounding seabed, especially as we continue to add more structures to the ocean."
As for her immediate future, Mugge plans to continue her research efforts as a National Research Council Postdoctoral Research Associate in the Ocean Sciences Division at the U.S. Naval Research Laboratory at Stennis Space Center.