Monarch Butterfly Waystation Brings USM Gulf Park Campus Together
Thu, 07/20/2023 - 10:27am | By: Gabriela Shinskie
When The University of Southern Mississippi's (USM) Gulf Park Campus' staff members Jason Cantu of the Physical Plant and Jamie Stanfield of the Gulf Coast Library came together to start a monarch butterfly waystation, they had no idea how big it would become along the Coast.
In 2018, a USM student had a passion for monarch butterflies and its benefits to the ecosystem it inhabits. Later, the student found out that the Gulf Park Campus in Long Beach was directly on the Monarch Butterfly Trail. He asked Stanfield how they could put together a plan to build a butterfly garden outside of the library where an old swimming pool used to be.
"The students went to Jamie and asked her how they can help these butterflies and their cycle," said Cantu.
The Gulf Coast Library director at the time approved the plan to build the garden, but that was just the beginning. He suggested they reach out to Physical Plant and apply for a grant to build a gazebo with flowers around it, which would cost a few thousand dollars.
"The plan was drawn on notebook paper that Jason still has. We didn't receive the grant, but we did get invited to the Physical Plant," said Stanfield.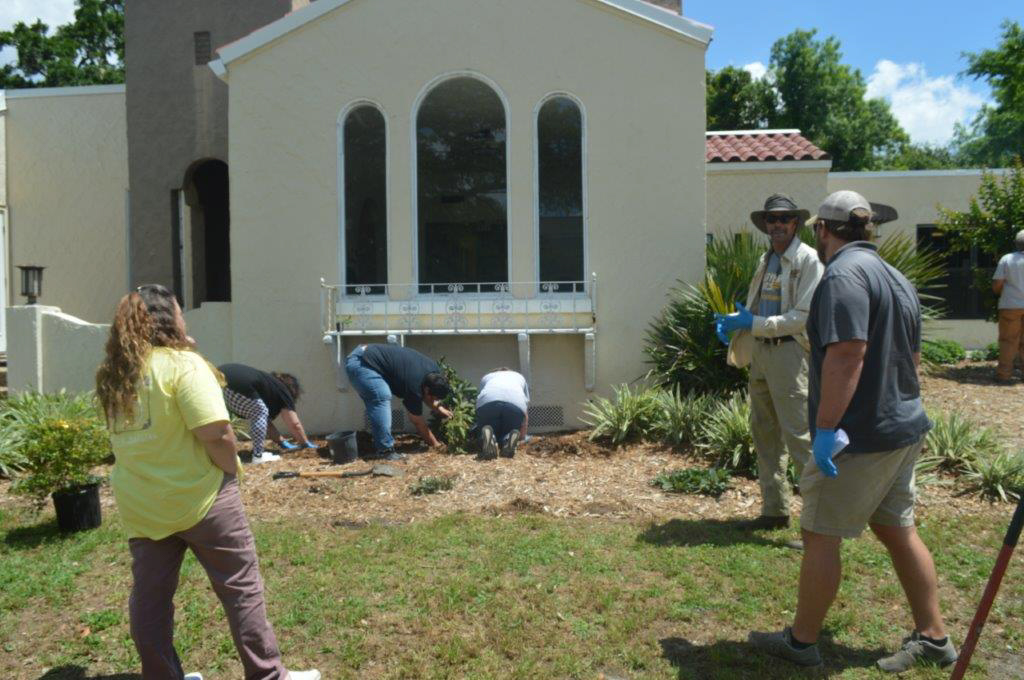 There, the students presented their idea of the butterfly garden. The Physical Plant got on board and looked for ways to build the waystation garden. Instead of the pool transforming into a garden, they decided to transform all the flower beds on campus into certified butterfly campus waystations.
Cantu, Stanfield and USM students, faculty and staff formed a committee to discuss how to create the waystation beds along with flower and plant recommendations for the butterflies.
"We were now addressing this campus landscape as a team where everyone gets some input," said Cantu. "Our goal was to address all of the flowerbeds on campus in a way that is sustainable and a way where native and drought-tolerate plants are used and can handle the salt air, but most importantly, plants that can help the monarch butterfly life cycle."
Cantu drew every flower bed on campus, adding plants and flowers needed to identify Gulf Park as a certified monarch butterfly waystation. A total of 16 thousand square feet of flower beds were compiled.
"We wanted to do something that will put us on the map. We wanted to transform every flowerbed so we could reach Colossal Waystation Status," said Cantu.
Through Monarch Watch and the North American Butterfly Association (NABA), Gulf Park achieved that waystation status.
"This is the biggest waystation on the Coast," said Stanfield.
With fall being the migration season for butterflies, a variety of unique plants are needed to attract these insects on campus such as Muhly grass (native to the coast), Lantanas (natural mosquito repellent), Drift Roses and Sunshine Ligustrum. The main plant needed in a monarch butterfly waystation is milkweed. This unique plant is essential and beneficial to the butterfly life cycle. A butterfly can lay its eggs on the milkweed. Once the eggs hatch, the caterpillars eat the plant. When they become butterflies, they use the flowers as nectar.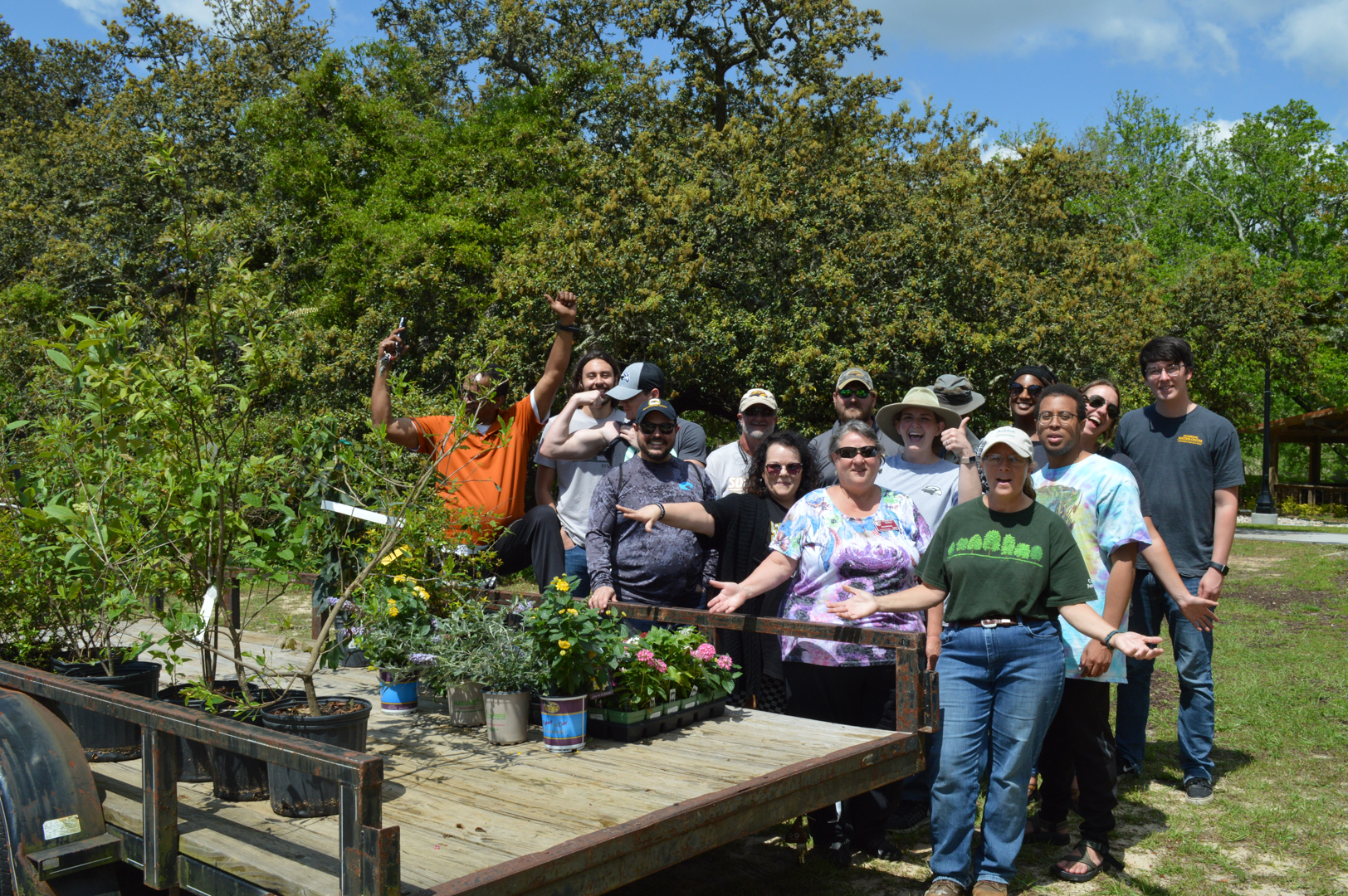 Many faculty in the Science building grew their own milkweed in labs on campus for the flowerbeds in anticipation of USM students gathering for a planting event in March 2020 called 'Monarch Madness'. This event gathered people of all ages to plant 100 milkweed around campus. The Physical Plant provided tools, sod, mulch and labor support.
"Everyone likes to feel like they've contributed," said Stanfield.
Cantu helped dedicate certain spots around campus that were perfect to plant milkweed that were near water sources like the Bear Point Bayou.
Once the COVID-19 pandemic subsided and people started returning onto campus, Cantu and Stanfield started another planting event to bring a sense of community. They conducted presentations on how to create one's own butterfly waystation at home.
To this day, Stanfield and Cantu continue to make sure the waystations are maintained sustainably by not spraying the plants with pesticides that can harm the butterflies. They have inspired other USM locations to create their own waystations, such as the Gulf Coast Research Laboratory (GCRL) Halstead and Cedar Point campuses in Ocean Springs. GCRL's Grounds Foreman, Ron Jordan, certified a monarch waystation at GCRL's Halstead campus that Cantu designed and spreads milkweed seeds across both campuses.
The waystations have been used as a research tool for classrooms and ways for faculty and students to work together to create a healthy environment for the butterflies as they migrate onto campus in the fall.
"It was so much fun going around campus and seeing the butterflies on our plants," said Cantu.