Six Individuals to Receive Young Professional Scholarship at the 2023 National Sports Safety and Security Conference & Exhibition
Mon, 03/20/2023 - 01:34pm | By: NCS4 Staff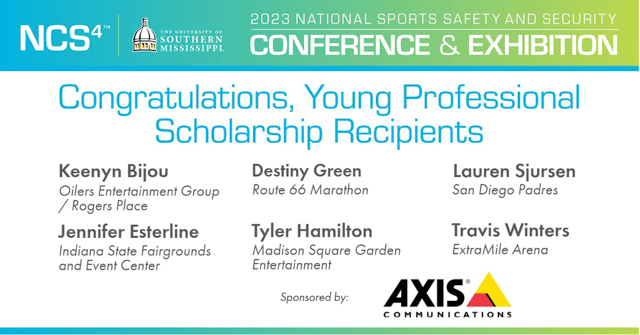 The National Center for Spectator Sports Safety and Security (NCS4) will recognize six individuals as Young Professional Scholarship recipients during the 2023 National Sports Safety and Security Conference & Exhibition on June 27-29 in San Antonio, TX. The event is presented annually by NCS4, which is housed at The University of Southern Mississippi (USM).
The NCS⁴ is committed to educating the next generation of sport security professionals and recently announced the Young Professional Scholarship Program to support young professionals' educational goals by covering the registration fee for selected individuals to the National Conference. The scholarship program is sponsored by Axis Communications.
The Young Professional Scholarship Program is designed for professionals 40 years of age or younger working in the sports and entertainment security industry. Potential candidates submitted an application for consideration of the award, and recipients were selected based on eligibility criteria, responses about career goals, and availability to attend the National Conference.
"We would like to thank our sponsor for this program, Axis Communications, as we work together to recognize and support young professionals in the sport security space. We look forward to connecting with them at the conference," said Dr. Stacey A. Hall, NCS4 Executive Director and Professor of Sport Management.
The conference will expose recipients to general educational programming, innovative technology solutions, security expert insights, and networking opportunities.
"Axis Communications values education, and we celebrate personal and professional development," said Kevin Taylor, Axis Communications Segment Development Manager, Cities – Americas. "We are proud to participate in helping deserving young professionals through the financial support of the scholarship and appreciate the opportunity to partner with NCS4 in this impactful initiative."
Recipients were representative of the following industries: professional sports and entertainment, intercollegiate athletics, and marathon and endurance events.
The NCS4 and Axis Communications are excited to announce the 2023 Young Professional Award recipients:
Keenyn Bijou, Manager, Fan Experience and Security, Oilers Entertainment Group/Rogers Place
Jennifer Esterline, Director of Safety and Security, Indiana State Fairgrounds and Event Center
Destiny Green, Executive Director, Route 66 Marathon
Tyler Hamilton, Supervisor - Threat Management, Madison Square Garden Entertainment
Lauren Sjursen, Manager, Security Operations, San Diego Padres
Travis Winters, Associate Director of Safety and Security, ExtraMile Arena
Visit the conference website for more information.
About the 14th Annual Conference:
The National Sports Safety and Security Conference & Exhibition will be held June 27-29 at the JW Marriott San Antonio Hill Country Resort and Spa in San Antonio, TX. The conference will attract over 450 attendees and 70 exhibitors representing professional sports, intercollegiate athletics, interscholastic athletics, marathon and endurance events, sport and entertainment facilities, and those who provide safety and security products and services to the industry. You can visit the conference website for more information.
About NCS4:
Established in 2006, the National Center for Spectator Sports Safety and Security (NCS⁴) is the nation's only academic center devoted to the study and practice of sports safety and security. The NCS4 is partially underwritten by grants from the Department of Homeland Security (DHS) and the Federal Emergency Management Agency (FEMA). The NCS4 mission focuses on three key pillars – Training and Education, Research, and Outreach. You can visit the center's website for more information or call 601-266-6183.