USM Students Claim National Honors at NCSSC
Mon, 04/03/2023 - 11:26am | By: Van Arnold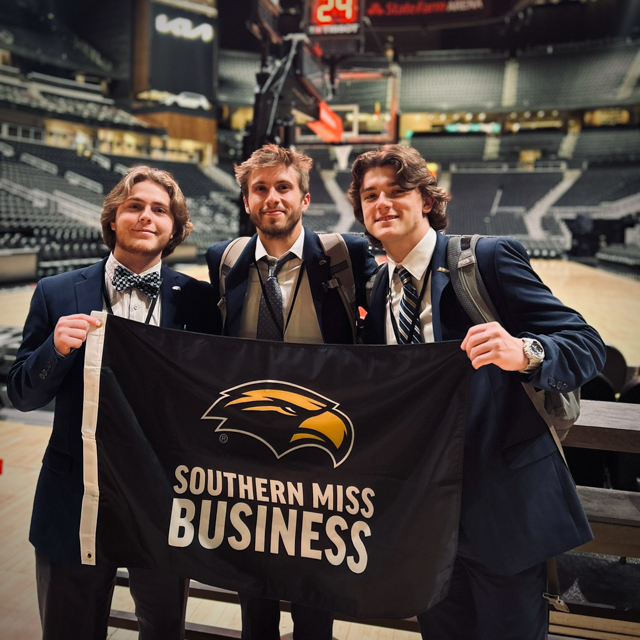 Holden Hewes, Ryan Theriot, and John Michael Travers, College of Business and Economic Development (CBED) students at The University of Southern Mississippi (USM), claimed national honors recently at the National Collegiate Sports Sales Championship and Conference (NCSSC) at State Farm Arena in Atlanta.
NCSSC is coordinated by Baylor University's Center for Sports Strategy and Sales (S3) and the Atlanta Hawks and provides opportunities for students to showcase their skills in a competitive sports sales environment.
The students competed in a national sports sales conference against peers from around the nation. The group claimed a No. 10 ranking in Speed Sells as a team.
Individual honors included Hewes No. 25 and Theriot No.49 in the final ranking in the Ticket Sales Division, while Travers claimed a No.12 ranking in the Corporate Sales Division. Additionally, the students were able to attend sports sales workshops, network with professional sport organizations, and interview on-site with participating conference attendees.
Hewes noted, "The National Sports Sales Conference is one of the most beneficial experiences I have ever been a part of. The connections and opportunities available through the NCSSC are unparalleled and have opened doors in my career that I never originally anticipated. "
Theriot added, "It was an amazing experience getting to meet so many great people in the ticket-selling industry and showcase my skills nationally. It was truly an experience that I will never forget."
The student group was led by Dr. Chris Croft, Assistant Professor of Sport Management, and Mr. Kevin Buckley, Professor of Practice in Marketing from the School of Marketing. This marked USM's second year to compete, and the conference was funded by the College of Business and Economic Development Business Advisory Council.