New USM Student Government Leaders Transition into Office at Hattiesburg Campus
Fri, 04/28/2023 - 11:48am | By: David Tisdale
The transition is underway in the Student Government Association (SGA) at The University of Southern Mississippi (USM) on its Hattiesburg campus, as its new executive officers officially take over for 2023-2024, led by SGA President Jonathan Jenkins.
Jenkins, a senior business management major from Picayune, Mississippi, says it's an honor to be selected by his fellow students in elections held earlier this semester to lead the SGA. At USM, he is a member of Pi Kappa Alpha fraternity, Student Alumni Association, Order of Omega Honor Society, and is a past president of the Interfraternity Council (IFC).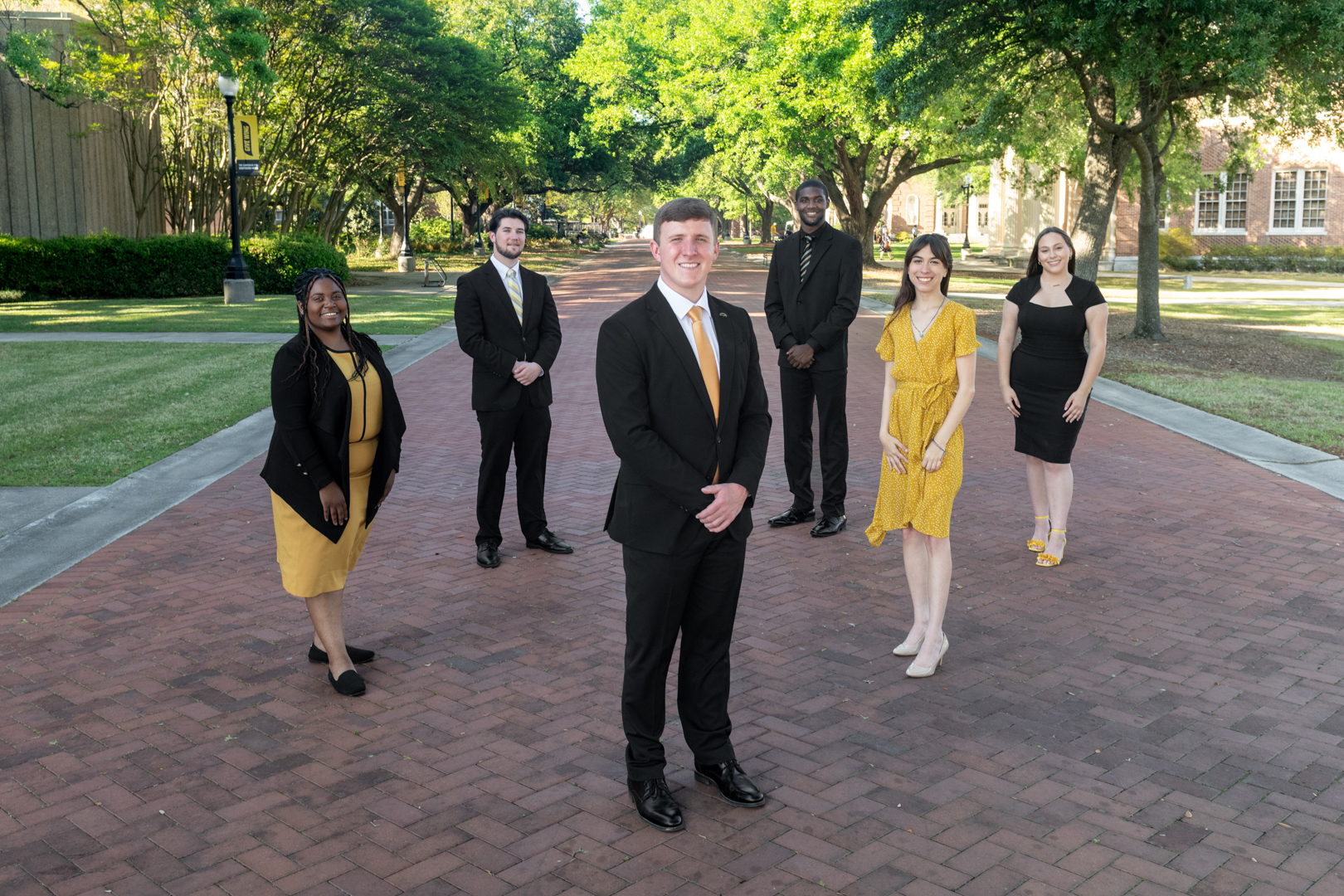 "I was motivated by my love for Southern Miss and my passion for serving the study body, and I wanted to be a part of some of the great things that are happening on campus," Jenkins said of his motivation to pursue the position.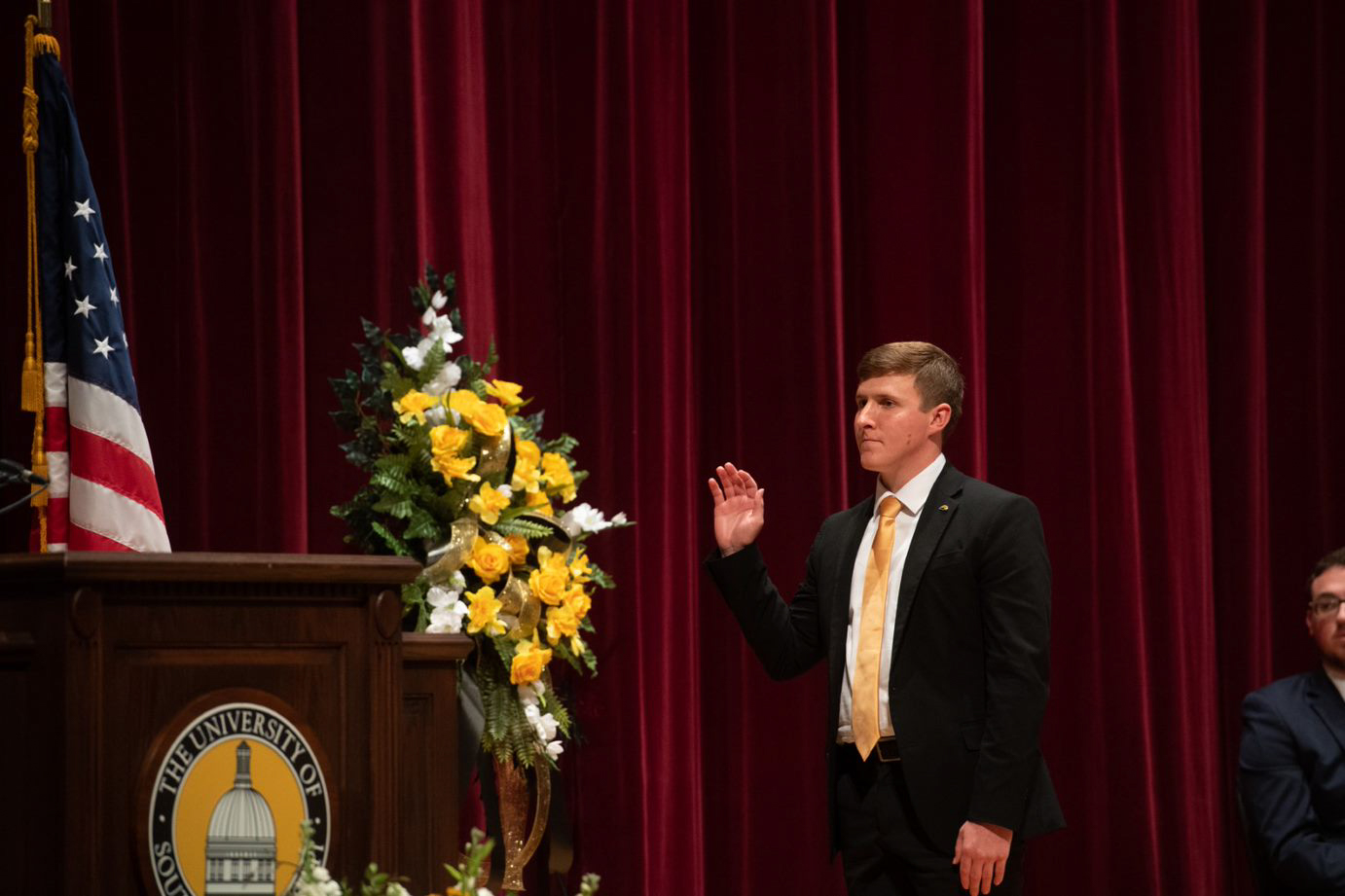 Jenkins' main duties as SGA President include overseeing the operations of the executive board and assisting with the operations of the other branches of SGA and representing USM students to the University leadership team and on the IHL Student Body Presidents' Council. Joining him in service as an SGA executive officer include the following, all of whom were sworn in during the Student Awards Day ceremony on USM Founders' Day:
*Senior Vice-President Aly Gonzalez, a junior sociology and political science double major and nonprofit studies minor and DEI certification from Virginia Beach, Virginia. Gonzales is a member of Alpha Chi Omega sorority, the Sexuality and Gender Equity Club, the Vietnamese Student Association, and is a Sexual Assault Prevention ambassador.
*Vice President of Judicial Affairs Courtney Francois, a senior mathematics and music double major from Jackson, Mississippi. Francois is a member of the Wesley Foundation, Sigma Alpha Iota International Music Fraternity - Kappa Epsilon Chapter, Honors College Leadership Council - E.D.I.T. Committee, USM Symphony Orchestra, and the Kappa Mu Epsilon - MS Gamma Chapter.
*Vice President of Finance and Administration Jacob Gardner, a junior mathematics and Major from Star, Mississippi. Gardner is a Luckyday Scholar and a member of Honors Keystone, Delta Tau Delta fraternity, Student Veterans of America, the Cross Scholars math research program, Order of Omega honor society, and Kappa Mu Epsilon mathematics honor society.
*Vice President of Communications Zack Wallace, a junior polymer science and engineering major and chemistry minor from Jackson, Mississippi. Wallace is a student in the Honors College and a member of Men of Excellence, EagleTHON, and the Polymer Science Association.
*Chief of Staff Alex Westcott, a junior criminal justice and psychology double major with a minor in sociology from Thibodaux, Louisiana. Westcott is a senior resident assistant in the USM Department of Housing and Residence Life, director of Freshman Associates and Cabinet Operations, an SGA First Year Mentor, a member of the Honors College Leadership Council, vice president of service for the National Residence Hall Honorary, a member of Delta Gamma sorority, the Criminal Justice Student Association, 10/08 Tutoring Program, Psi Chi, and the Psychology Club.
The SGA plays an important role in promoting a positive and productive campus environment, Jenkins said, and can contribute to the overall success of the university through its representation of students as a liaison between them and University administration, ensuring their voices are heard and needs addressed.
"I want to find every way that the SGA can improve the student experience, and I want to work with university partners and other student organizations to make those things happen," Jenkins further noted, when asked about his own goals for his tenure in office. "I also would like to see more involvement regarding SGA elections and other SGA-related activities."
Learn more about the USM SGA by visiting their website.