USM Researchers Conduct Examination of Rare Gulf Sturgeon Discovery
Thu, 01/19/2023 - 02:10pm | By: Van Arnold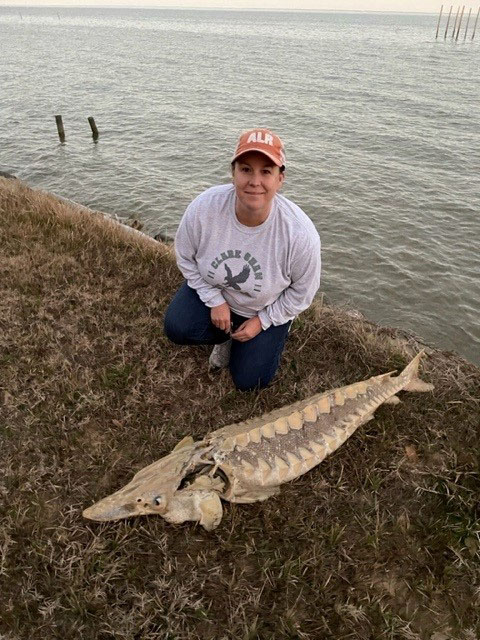 The recent discovery of a Gulf Sturgeon carcass in Mobile Bay by science teacher Tami May provides a unique glimpse back in time when birds, mammals, and fish first began to appear on the planet.
Often referred to as a "living fossil", the Gulf Sturgeon has been around for at least 200 million years – an age known as the Jurassic period. Since that time, the fish has remained largely unchanged in appearance. Covered in a hard coat of protective armor, they can reach up to 9-feet long and weigh as much as 50 pounds.
Unsure of what she found washed up on the gulf shores in Coden, Ala., May reached out to a family friend who then contacted researchers at The University of Southern Mississippi (USM). Dr. Michael J. Andres, Assistant Research Professor, Division of Coastal Sciences at USM and his graduate assistant, Elizabeth Greenheck, took possession of the carcass and began conducting tests.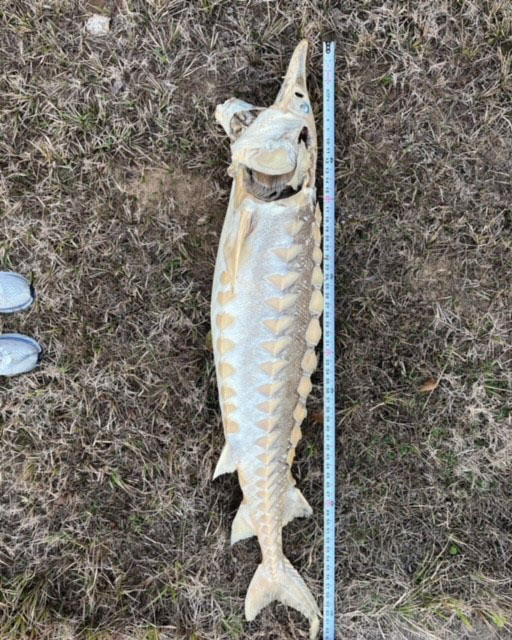 Andres conducted a necropsy of the sturgeon that included measuring the fish, examining it for signs of trauma, checking for any external tags, taking tissue for genetic samples, and testing a section of the pectoral fin for aging. The sturgeon measured approximately 5-feet, 1-inch.
"We then scanned the fish for passive induced transponder (PIT) tags, which is the same technology used when microchipping a pet and acts as a social security number for an individual, to determine that individual's capture history," said Andres. "For this fish in particular, we were able to determine that it was first captured in Pearl River, La., in 2018 and had not been recaptured until it died."
USM scientist Dr. Michael Andres displays a live sturgeon, right. At left is a photo of the Gulf Sturgeon May discovered and provided to Andres for examination. Also shown are the passive induced transponder (PIT) tags.
The team then checked for any parasites along the body or in the mouth and gills, while making an incision along the ventral surface to examine the inner organs and determine if the fish had previously been surgically implanted with an acoustic transmitter (used to monitor the movements of Gulf Sturgeon).
"Based upon the necropsy, we determined the fish was male, had never been surgically implanted with an acoustic transmitter, died from trauma to the area behind the head (potentially a propeller strike), that it was actively feeding on small fish while in Mobile Bay, and that it had been dead for about two days prior to reporting," said Andres.
May teaches 8th-grade physical science at Clark Shaw Magnet School of Science and Math in her hometown of Mobile, Ala. She stumbled upon the carcass in early December while checking out the weather for kayak fishing.
"I did not know exactly what it was. I was investigating it and thought it was a damaged alligator gar," said May. But then I saw the mouth parts and vaguely remembered something that I had learned about sturgeon."
She texted the discovery to family friend Dr. Frank Hernandez, a marine biologist and former USM faculty member who now works for the National Oceanic and Atmospheric Administration (NOAA).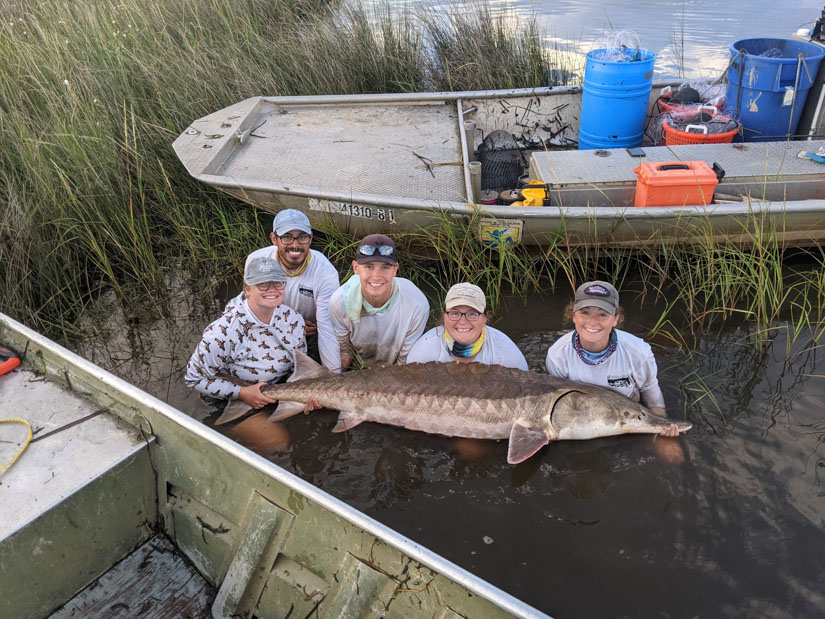 Members of Andres' lab hold a live sturgeon.
"He confirmed that it was a sturgeon, and that I needed to report it to NOAA," said May. "He also reached out to his colleague, Dr. Mike Andres, and graduate student Elizabeth Greenheck."
Andres points out that the research his lab conducts focuses heavily on fish ecology, especially related to Gulf Sturgeon conservation. Consequently, his team conducts a variety of studies from how restoration activities may influence the fish's habitat use and movements to describing population demographics.
Gulf Sturgeon are a federally protected species, currently listed on the Endangered Species Act as Threatened, and they are listed at the state level as Endangered. Andres notes that the current range of spawning rivers for Gulf Sturgeon is restricted to seven rivers from the Pearl River, La./Miss. To the Suwanee River, Fla.
Andres explained that although Gulf Sturgeon populations are reduced compared to their historical abundance and distribution, it is not especially uncommon for beachgoers/boaters to occasionally encounter a dead specimen.
"However, oftentimes many folks will not report a dead sturgeon on the beach whereas they will do so more frequently for sea turtles or cetacean," said Andres. "This finding, in particular, was unique as it provided an opportunity to determine if Gulf Sturgeon are indeed feeding in Mobile Bay. We, and others, have long expected Gulf Sturgeon are still using portions of Mobile Bay for feeding habitat, and so we were able to confirm that this is occurring."
May notes that her students did not understand the scope of the discovery initially.
"They were more in awe of the pictures I was sharing," she said. "These sturgeons are so reptile and dinosaur-like and not fish-like at all. It looks ancient. Unfortunately, kids don't get outside much these days, so they did not realize this was an unusual find. Now, they are excited to learn more."
Andres discussed his examination and findings with students in grades 6-8 at Clark Shaw during a special presentation on Thursday, Jan. 19. Greenheck filmed the necropsy conducted by Andres, who shared the video with students.
"In doing so, these students were given the unique opportunity to see the entire process – without having to experience any of the smells – and hear about a species not commonly encountered in Mobile Bay," said Andres.
The discovery has generated quite a swarm of media interest on the local, state, regional and even international level. May admits she has been taken aback as much by the expansive coverage as she was by finding the sturgeon.
"My mom had posted it on the local Dauphin Island Fan Page, and it went crazy," said May. "Then Devon Walsh from WKRG-TV shared it. That's when it really went viral. It wasn't until my sister-in-law in Atlanta called and said she saw it that I really got the scope of how far it was shared. I even had a news outlet from India contact me."
Added May: "It makes me happy to know that people are aware of the importance of the public knowing they need to report findings like this so that researchers can make more accurate reports, and consequently decision-makers will have the correct information they need before altering the ecosystem."