USM Graduate Students, Local Brewery Resurrect Science on Tap
Wed, 07/19/2023 - 09:23am | By: Gabriela Shinskie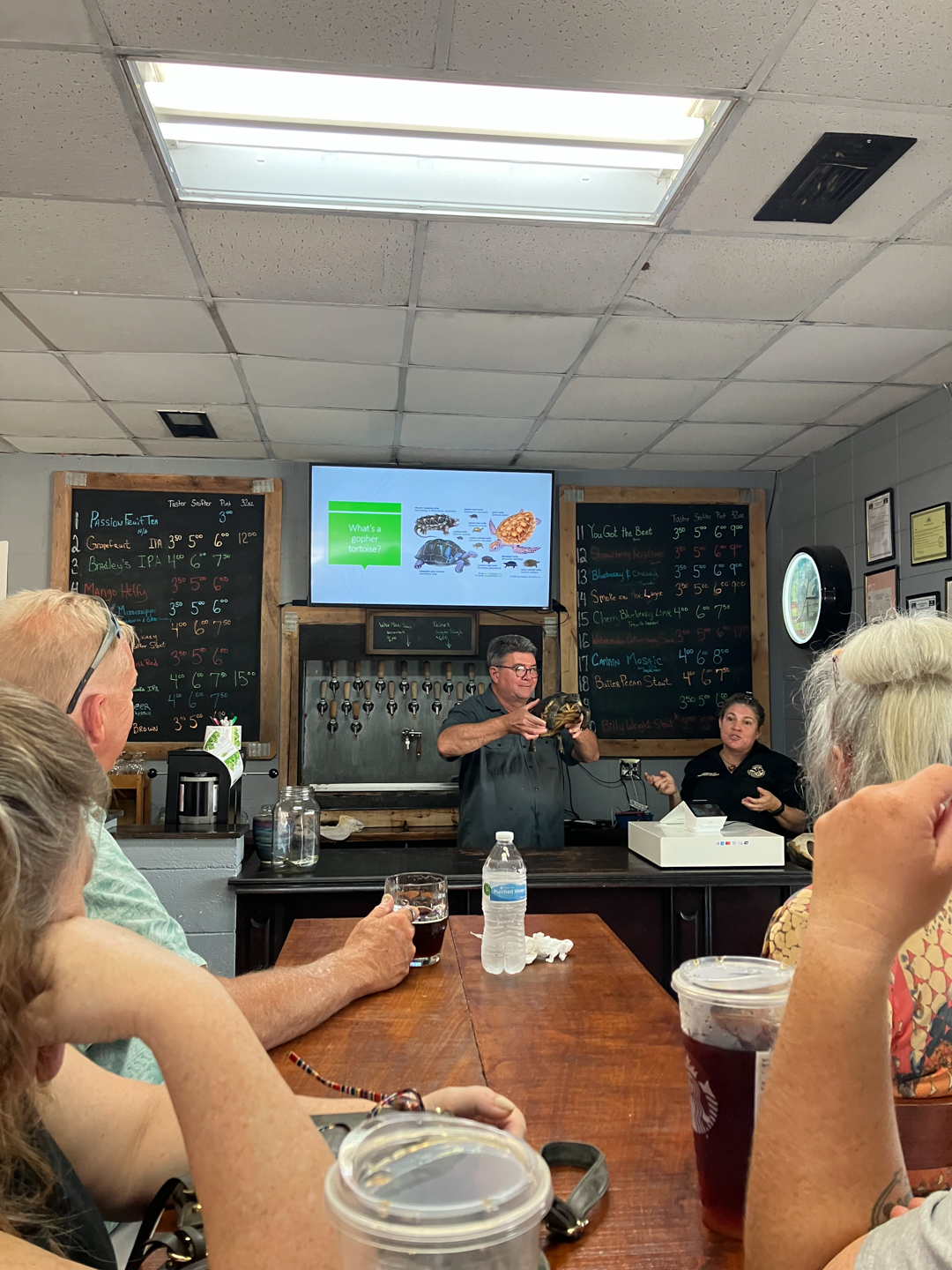 Microbrewery owner Scott Hixson of Hops and Growlers in Ocean Springs is no stranger to The University of Southern Mississippi's (USM) faculty and students and their research projects along the Gulf Coast and has revived a popular event at his establishment showcasing their work to the public - over a few suds - with the return of the program Science on Tap.
Science on Tap features USM faculty members, students, and researchers, as well as faculty from Mississippi State University (MSU), speaking about the Mississippi Gulf Coast and the marine life that inhabit its waters. Most recent talks have focused on blue crabs, manatees, gopher tortoises, climate change and impacts of Mississippi River diversions.
"It was just a bunch of guys drinking beer and talking about what they did for a living," said Hixson of how the event originated. "I got this crazy idea that it would be great, and the community would find it as a great resource. I found it fascinating and then they agreed to it."
Before the COVID-19 Pandemic, Hops and Growlers would run out of space with attendees eager to listen to a new talk about the coast. In 2020, the pandemic stopped gatherings and forced Science on Tap to take a hiatus.
Hixson waited out the pandemic like many business owners, hoping Hops and Growlers would be able to operate back to pre-pandemic numbers. When the pandemic started subsiding, Hixson was ready to resume the popular Thursday night gathering, but quickly realized many of the regular Science on Tap speakers have moved, retired or were no longer with the universities.
"It was getting harder and harder to find people," said Hixson.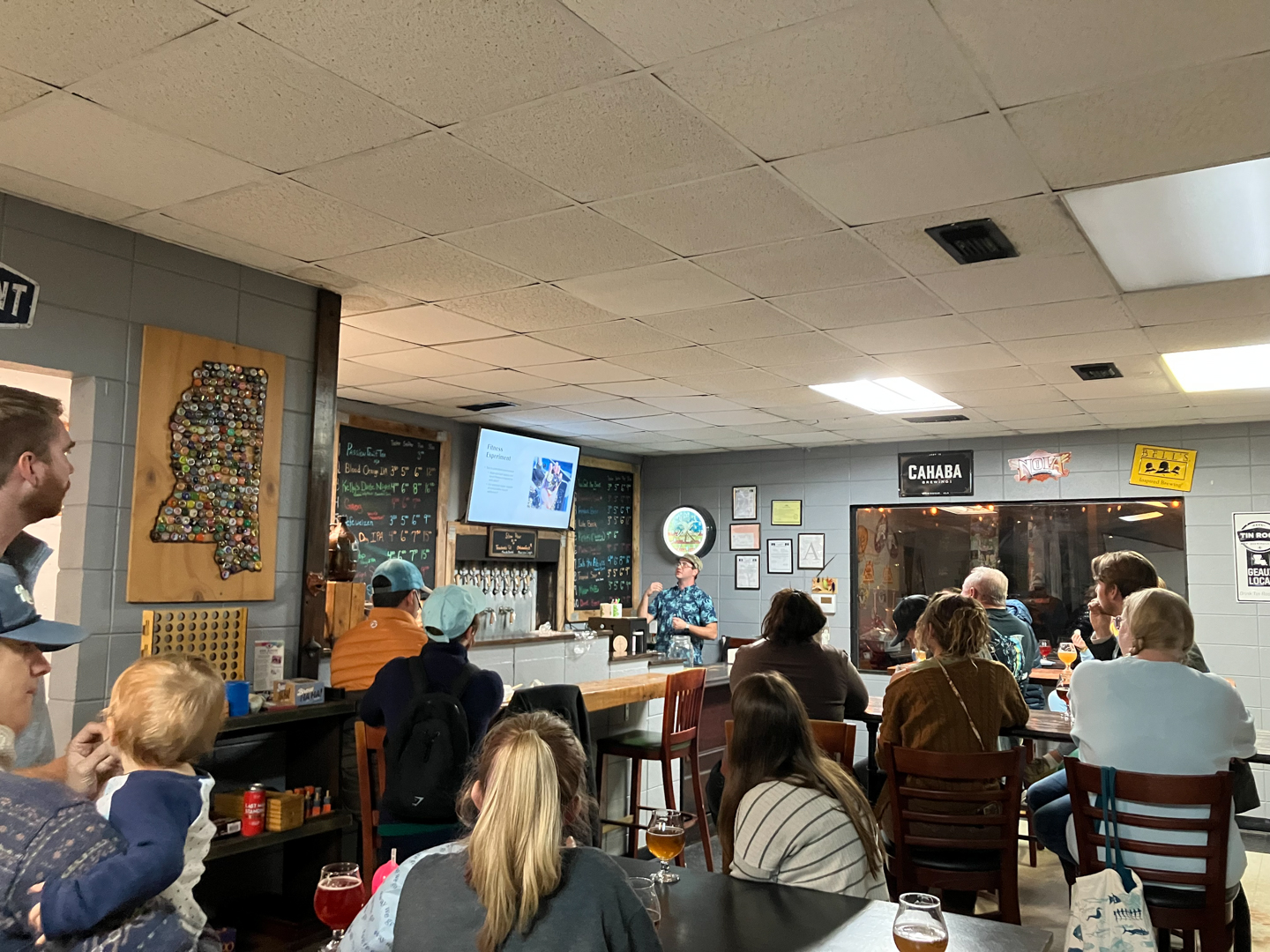 Hixson thought of ways to bring back speakers, and suggested USM graduate students speak on their research. Dr. Mike Andres in the USM School of Ocean Science and Engineering told graduate student Elizabeth Greenheck about Science on Tap and encouraged her to reignite the popular gathering.
Greenheck joined Dr. Mike Andres' lab in 2021 along with the Marine Estuarine Graduate Student Association (MEGSA).
"Not a lot of graduate students knew each other, and we wanted to bring community back to GCRL after COVID," said Greenheck. "I started getting grad students to present as a way to practice conference talks and public speaking. This was also a way to get us to share our research with those not in in the sciences."
MEGSA was a huge part in bringing back Science on Tap to Hops and Growlers. Dr. Kelly Darnell, interim director of USM's Gulf Coast Research Laboratory (GCRL), is a proud supporter of the student organization.
"MEGSA has organized several events that bring together GCRL faculty, staff, and students," said Darnell. "They have also spearheaded efforts to engage with the broader community. Science on Tap is a great example that also supports a local business.
"Other events MEGSA has organized, such as beach clean-ups, also reach beyond GCRL's walls to serve the Mississippi Coast. We are proud of MEGSA, not only because of this service, but also because of the excellent research its members do as graduate students at USM."
The first year-and-a-half were challenging to encourage people to attend gatherings, but in January 2023, Science on Tap took off.
"A lot of this is to highlight student research," said Greenheck. "We have some regulars in the community that come to see what is going on."
Greenheck has graduated from USM and handed the reigns of Science on Tap to the new MEGSA president, David May, a USM graduate research assistant.
"MEGSA is a student-led organization. Being student led, it's important to recruit students through this event opportunity," said May. "It offers them an opportunity to publicly present their research. It's a judgement-free environment. The audience is a mix of experts and non-experts."
Hixson is thrilled to have Science on Tap attendees filling the seats in his bar, and said people are more likely to hear topics related to the environment in a relaxed setting like Hops and Growlers.
"We knew this event would be good in our community," Hixson said. "We have a lot of talented people around here who are doing really great things. We just want to put it out there for people."
Science on Tap is held every other Thursday at 6 p.m. at Hops and Growlers at 2339 Government Street in Ocean Springs and is open to families and people of all ages. Learn more about Science on Tap on their Facebook page. Visit the MEGSA website to learn more.