USM Phi Kappa Silver Bowl Recipient Ferguson, Fellow Student Honorees Ready for Life's Next Chapter
Fri, 04/28/2023 - 11:12am | By: David Tisdale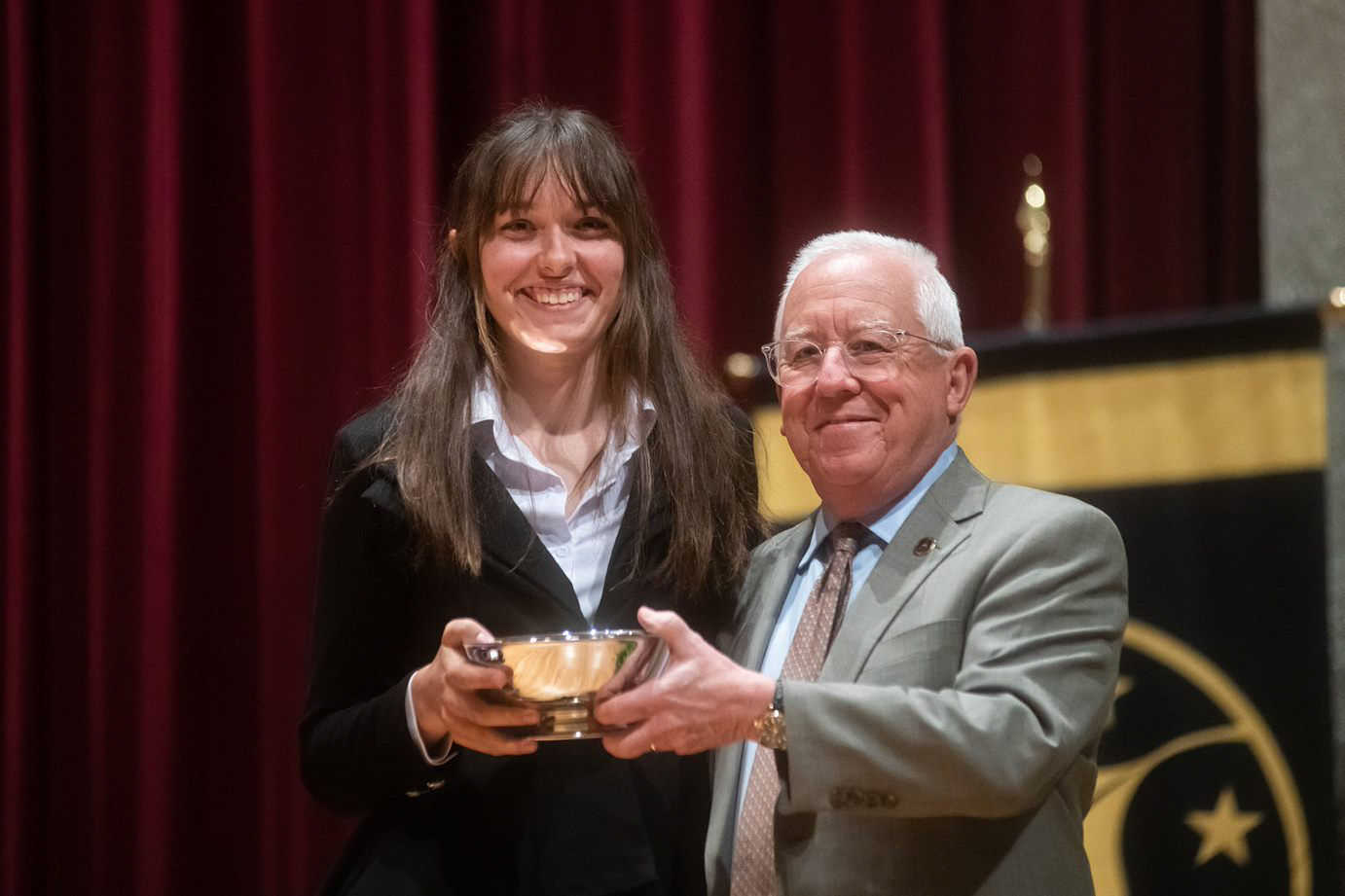 Just one look. That's all it took.
In her senior year of high school, Shaylee Ferguson scheduled three university tours. The University of Southern Mississippi (USM) was first.
"I canceled the next two tours after seeing Southern Miss, because I knew I would attend school here," said Ferguson, a senior from La Plata, Missouri.
The soon-to-be graduate of the University's College of Business and Economic Development looks forward to commencement in May and what comes next, whether it be graduate school or working in the field of international business.
A senior international business major with minors in anthropology and Spanish, Ferguson is an Honors College student and a member of its leadership council's academic committee. She is also a member of the College of Business and Economic Development's chapter of Beta Gamma Sigma and served as a peer advisor for the University's study abroad programs.
She says her time at USM has centered around a desire to see and try new things.
"I grew up in a small town in Northern Missouri, so the move to a city 12 hours from home was daunting, but ultimately rewarding," Ferguson said. "In my first year, my honors colloquium class went to Washington, D.C., where I had more first-time experiences. The year and a half interrupted by Covid was a series of firsts for everyone.
"In the fall of 2022, I completed a foreign exchange program in Birmingham, England for a semester, which was the opportunity of a lifetime."
Guiding Ferguson in her pursuit of new intellectual and cultural experiences during her undergraduate career was a cadre of professors she said left indelible impressions.
"So many of my professors were incredible, but a few stand out as having particularly positive impacts on my time at Southern Miss," Ferguson said. "First, Dr. [Allison] Formanack introduced me to the world of anthropology and taught me how I could relate my passion in that subject to my drive in the world of business; she made the class so interesting and engaging and is so supportive of her students. Dr. [Marie] Danforth is a forensic anthropology professor, and even though forensics is not my passion, her class was so fascinating. She is so enthusiastic about the subject that I couldn't help but be excited every time I had her class.
"Finally, I would be remiss if I didn't include Dr. [Jamye] Foster, my thesis advisor and supporter. I cannot thank her enough for sticking with me and for all the support she has given me to complete the project."
For her outstanding academic achievements, Ferguson was presented the Phi Kappa Silver Bowl at this spring's Student Awards Ceremony, held during the University's Founders' Week celebrations; it is the highest scholastic honor given to any student at USM. After graduation, she intends to secure a master's degree in business administration (MBA) at USM and eventually pursue a doctorate, while also eyeing opportunities to work in international business.
Dr. Foster said the thesis is often the first exposure a student has to academic research, and therefore inherently challenging. For the project, Ferguson had to learn how to design a study, collect survey data, and interpret analyses to answer her original research questions, while also spending a semester abroad – all just over the course of the last year.
"At times it was very hectic, and we were worried we wouldn't have the time to finish," Dr. Foster said. "But Shaylee persevered, and even presented her work at the Association of Marketing Theory & Practice Conference this semester.
"I have seen her learn and grow over our time together, and I believe these experiences will serve her well as she starts her graduate program (MBA) next semester."