Southern Miss Powwow to be held Nov. 18 at Spirit Park on Hattiesburg Campus
Thu, 11/09/2023 - 04:33pm | By: David Tisdale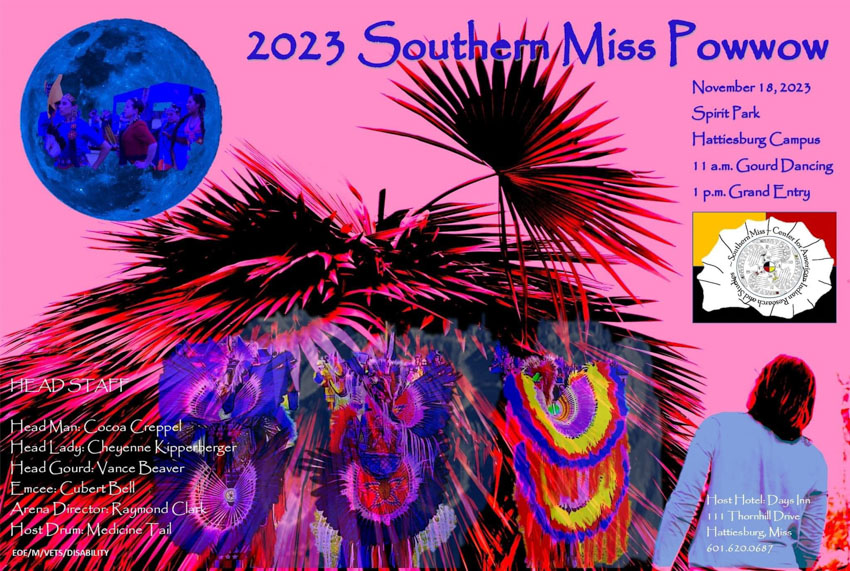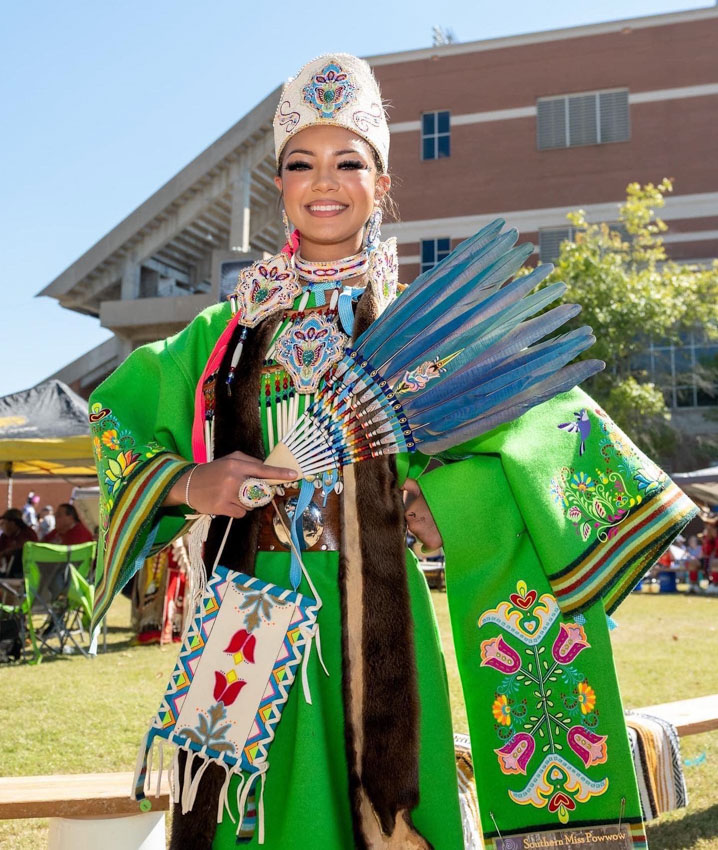 The Southern Miss Powwow returns Saturday, Nov. 18 to Spirit Park on The University of Southern Mississippi (USM) Hattiesburg campus, an annual celebration of the culture and traditions of Native peoples. It will be held from 11 a.m. to 7 p.m. and is free and open to the public.
Presented in part by the USM Golden Eagle Intertribal Society, the Powwow schedule includes the following activities:
*Gourd Dancing beginning at| 11 a.m.
*Grand Entry at 1 p.m.
*Closing song at 7 p.m.
"In addition to being a space to gather socially as Natives and also bring their unique cultures, art forms, crafts and food to everyone, the Powwow provides an opportunity for Native students to practice being what they will eventually become - leaders, culture bearers, and role models in Indian Country, said Dr. Tammy Greer, associate professor of psychology who serves as advisor to the Golden Eagle Intertribal Society.
Attendees will also be able to participate in a potato dance and intertribal dances, and enjoy Powwow dancers, music, and art, as well as food from local vendors at the event. Also featured will be ham radio operators with the Pine Belt Amateur Radio Club broadcasting messages from the Powwow to the world. "Their call sign is "W0W" and this year they are focused on educating folks around the world about our Palmetto Huts," Dr. Greer said. "If you have youth who want to experience what it is to be a ham radio operator and interact with the equipment, bring them to the powwow."
Lanena John, community liaison for GEIS and a tribal member of the Mississippi Band of Choctaw Indians, said the Powwow is not only a ceremony and social gathering for reconnection, but also for spiritual healing.
"The Powwow dances are the medicine that heals and uplifts the spirit within us," John explained. "From the drum beat to the intricate footwork, there is a connection between the dancer and drummer to the Creator."
For more information on the Southern Miss Powwow, contact Dr.%20Greer or John.