USM Gulf Park Health Center Invites Everyone to Stuff the Truck
Tue, 11/14/2023 - 09:32am | By: Gabriela Shinskie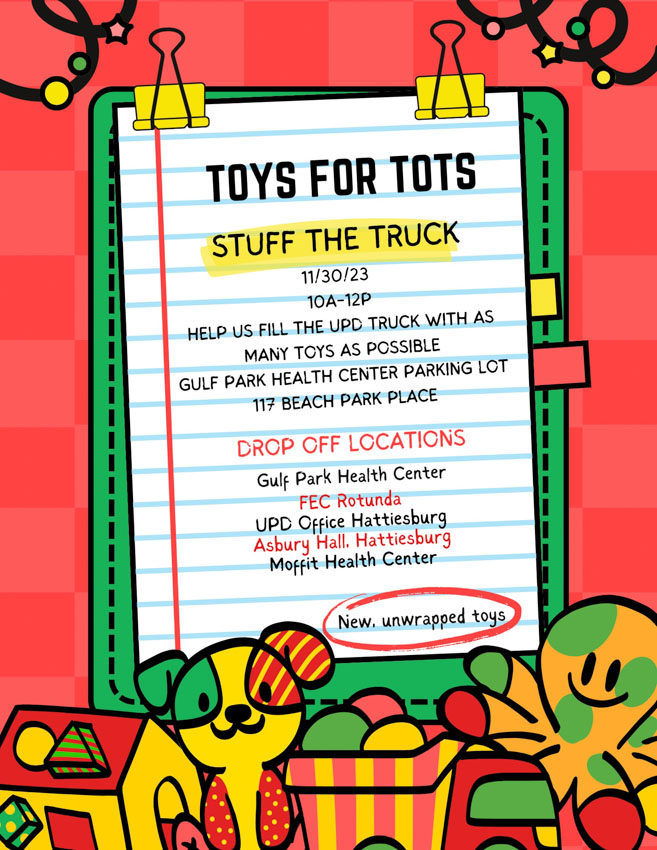 The University of Southern Mississippi (USM) Gulf Park Health Center (GPHC) will Stuff the Truck with Toys for Tots on Thursday, Nov. 30 from 10 a.m.- 12 p.m. at the Gulf Park Health Center parking lot on the Gulf Park Campus.
The Marine Corps Reserve along with USM Police Department will be present to help fill a truck with as many toys as possible for a child in need this holiday season. GPHC is asking for new, unwrapped toys.
Jennifer Larson, Office Manager of GPHC is extending the invitation to the local community to participate.
"One of the values of USM is community engagement that promotes social responsibility and citizenship. By participating in the Toys for Tots program we are upholding that value and supporting our local community beyond the USM campus," said Larson. "Participation in this program will help continue the relationships USM has built with our local community members."
Drop off locations include:
Gulf Park Health Center
FEC Rotunda
UPD Office, Hattiesburg
Asbury Hall, Hattiesburg
Moffit Health Center
Toys collected at the Gulf Park Campus will go directly to disadvantaged children in Harrison County. The toys collected at the Hattiesburg campus will go toward children in Forrest County.
Learn more about the Gulf Park Health Center or call 228.214.3300.