The Nature Conservancy Moves into USM's Gulf Coast Research Laboratory
Wed, 07/26/2023 - 09:41am | By: Gabriela Shinskie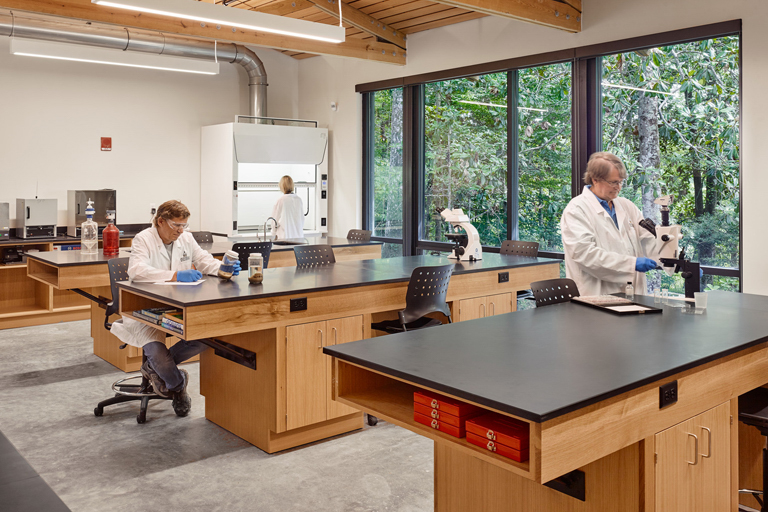 The University of Southern Mississippi's (USM) Gulf Coast Research Laboratory (GCRL) has welcomed The Nature Conservancy (TNC) onto campus in its Oceanography building in Ocean Springs.
The move took place at the beginning of June 2023. Kelly Darnell, Director of GCRL, is thrilled with the physical move and partnership.
"Since GCRL was founded in 1948 its sites in Ocean Springs have hosted scientists and students from many organizations and universities," said Darnell. "We are thrilled that The Nature Conservancy has been added to that list, with their south Mississippi office now based at GCRL. We look forward to strengthened and expanded collaborations between GCRL researchers and TNC staff in our collective work to understand our coastal lands and water."
The Nature Conservancy is a nonprofit conservation organization that works in all 50 states and over 70 countries worldwide. The group has been focused on coastal conservation work along the Coast since 1965. The Mississippi office was originally housed in Vancleave, Miss.
Becky Stowe, Director of Forest Programs for the Nature Conservancy in Mississippi, has been with the TNC for 21 years and has a strong connection to the Gulf Coast.
"The Nature Conservancy had been looking for a while for a space to share with a partner and we are thrilled that we landed at GCRL. TNC has a long history of getting conservation accomplished through partnerships and we look forward to many fruitful collaborations. Our conservation work is always grounded in science so being here at GCRL is a natural fit for us," said Stowe.
Stowe said much of TNC's focus is on land protection, longleaf pine restoration and award-winning conservation work with the Pascagoula River.
"We are here, and we love talking about what we do," said Stowe.
Thomas Mohrman is a USM graduate who has been with TNC for 12 years. He serves as the Director of the Mississippi Marine Program. His current project includes establishing an oyster shell recycling program and building a 20-acre high vertical relief oyster reef in Bay Saint Louis.
"We have some large projects moving forward and it makes a lot of sense to be closer to the coast. This puts us in a better position to be closer to our partners," said Mohrman.
Please visit The Nature Conservancy to learn more.