USM and University of Cadiz Sign Collaboration
Mon, 04/24/2023 - 11:06am | By: Gabriela Shinskie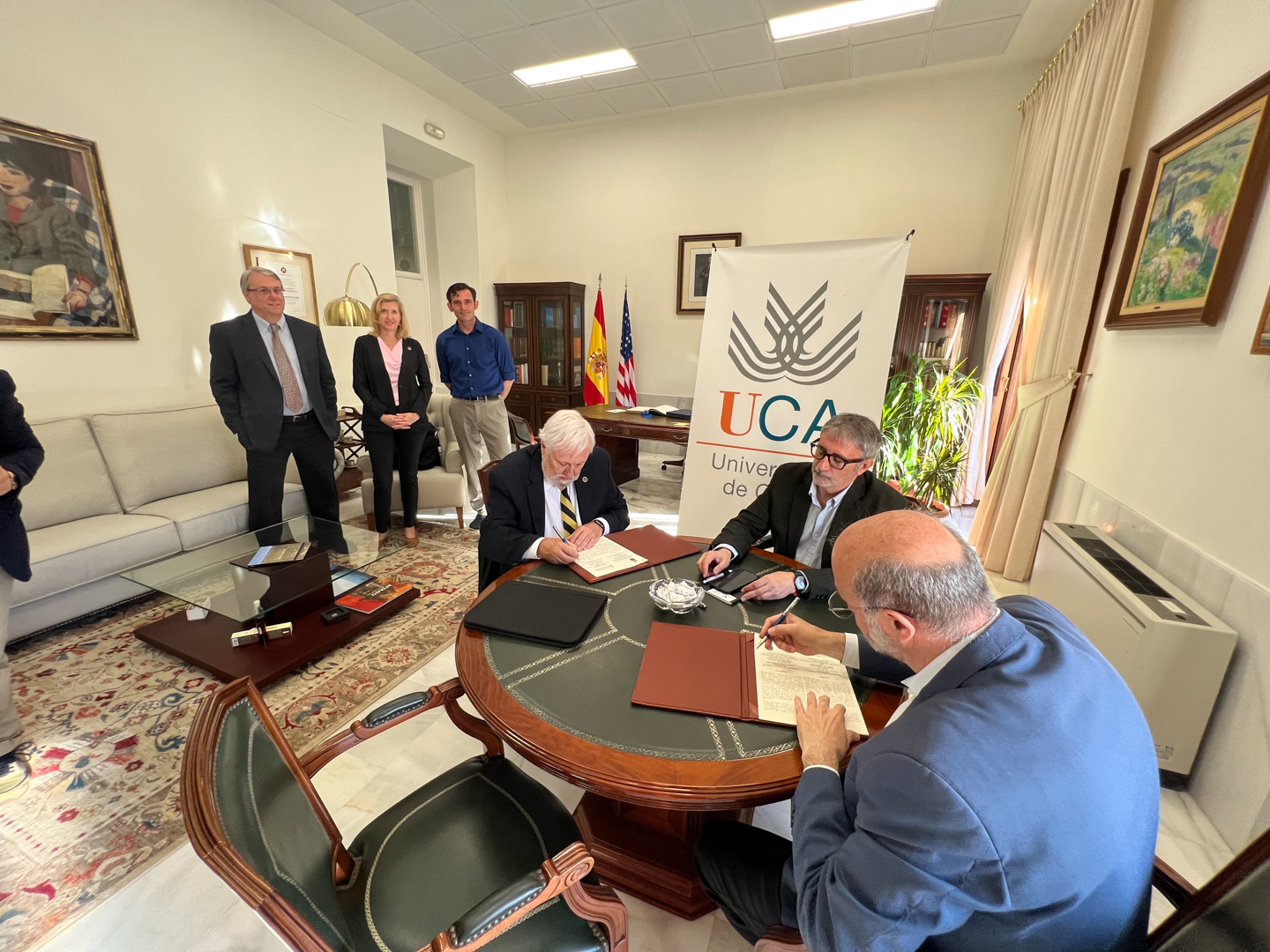 An existing collaboration advancing for students in research and cultural exchange between The University of Southern Mississippi (USM) and University of Cádiz (UCA, Spain) has been extended by the two schools.
The rector of UCA, Dr. Francisco Piniella, and USM Provost and Senior Vice President for Academic Affairs Dr. Gordon Cannon, signed a joint agreement continuing relations in teaching and research on the student exchange program between the universities in bachelor's and master's programs.
The event was held at the UCA Rector's Office and was attended by USM Vice President for Research, Dr. Kelly Lucas, USM Associate Provost of International Programs, Dr. Daniel Norton, USM Associate Vice President Research and Acting Director of the School of Ocean Science and Engineering (SOSE), Dr. Leila Hamdan, USM professor and coordinator of undergraduate programs in SOSE Dr. Joris van der Ham. In attendance for UCA were Dr. Rafael Jimenez Castaneda, and General Directors of Language Policy and the Office of Internationalization at UCA, Francisco Javier de Cos, Michel Remi respectively.
Dr. Lucas said the relationship between the two institutions provides great opportunities for students to access other areas of study. UCA has multiple campuses dotted along Spain's coastline, along with research centers and a main campus. Dr. Cannon concurred, further noting that the collaboration also provides USM students opportunities to immerse themselves in the Spanish culture, history, and language.
"Two of our professors have spoken to students there who are very excited about coming to USM," Dr. Cannon said. "This [collaboration] can be an eye-opening and life changing experience."
USM is recognized for its programs in polymer science and engineering, computer science and engineering, nursing, and coastal and marine sciences. The existing successful collaboration in languages with UCA is now primed for expansion into ocean science and engineering, with specific focus on instruction in aquaculture, marine biology and coastal studies.
UCA and USM bear numerous halmarks of similarity between their coastal campuses, spanning academic and research foci in coastal and marine science. Dr. Hamdan notes
"The physical landscapes of the institutions create opportunities to capitalize on the Mediterranean Sea and Gulf of Mexico, respectively as immersive classroom settings. This is an excellent set up for collaboration in education and science that can benefit both coasts." Along with education partnerships, there is potential for collaborations in research with UCA's CEI·Mar group, or "Campus of International Global Excellence of the Sea".