USM to Celebrate Founders' Day March 30
Tue, 03/28/2023 - 11:22am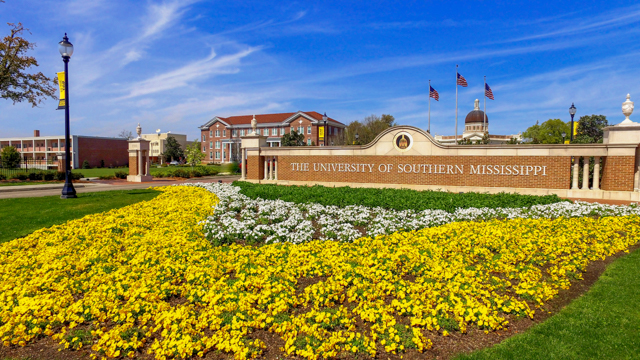 The University of Southern Mississippi (USM) will mark the 113th anniversary of its founding Thursday, March 30 with its annual Founders' Day celebrations, to include the annual Student Awards Ceremony recognizing the various academic, leadership, and service achievements of its students, set for 3 p.m. at Bennett Auditorium on the Hattiesburg campus. USM's Student Government Association executive officers will also be sworn in at this event.
A reception with refreshments will be held at 4:15 p.m. following the ceremony on the south lawn of Bennett Auditorium. Students, faculty, staff and alumni and friends of the university are invited to attend.
On March 30, 1910, USM was chartered by legislative act under the name Mississippi Normal College. Originally created to train teachers for the public schools of Mississippi, classes began for 227 students on Sept. 20, 1912. Today, it is the only dual-campus university in Mississippi, with campuses in Hattiesburg and Long Beach, as well as other teaching and research sites along the Gulf Coast.
One of only 146 universities in the nation to earn the Carnegie Classification of Institutions of Higher Education's "R1: Doctoral Universities – Very high research activity" designation, USM's robust research enterprise includes experts in ocean science and engineering, polymer science and engineering, and large event venue safety and security, among others. It is also one of only 36 public institutions in the nation accredited in theatre, art and design, dance, and music.
One hundred thirteen years later, Southern Miss continues with an expanded mission, providing a heritage of quality education and economic development for the region, generating more than $663 million in economic impact annually.
"Founders' Day is a day our alumni look forward to each year with great anticipation," said USM Alumni Association Executive Director Jerry DeFatta. "It's an opportunity to celebrate the resilience of our university which now spans over 113 years. It provides us with a moment to pause and reflect on not only how far we have come, but also how far we can go if we all choose to work together."
A variety of arts and athletics events are also scheduled for Founder's Day and throughout the remainder of Founders' Week at the university. For information about these events, visit the event page.