USM Alum Vice Earns Key Role with National Credit Union Administration
Wed, 01/18/2023 - 15:46pm | By: Van Arnold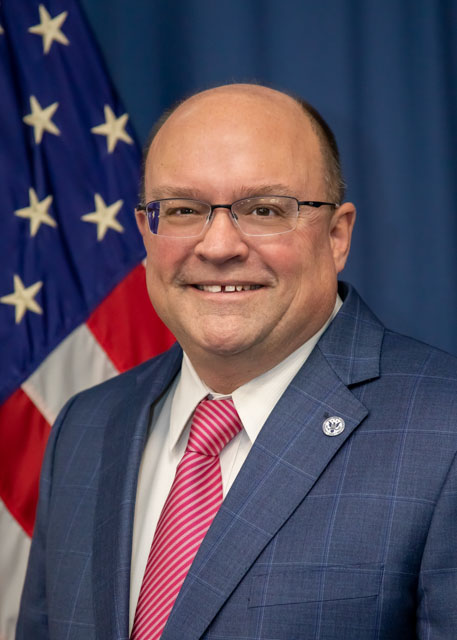 Describing himself as a "servant at heart," University of Southern Mississippi (USM) alum Charles Vice relishes the opportunity to assist others as the Director of Financial and Technology Access for the National Credit Union Administration (NCUA).
In this new role, Vice will serve as the principal advisor to the NCUA Board on agency policy with respect to fintech, and fintech developments and transformation initiatives in the financial services sector, including cryptocurrency, blockchain, and distributed ledger technology.
Initiatives include exploring methods to enhance the virtual examination and supervision process and promoting the development and deployment of technologies and innovations that can expand financial inclusion and equitable and affordable consumer access within the credit union system.
Vice, who lives in Lexington, Ky., with his wife, Julia, notes that the NCUA is a leader in promoting the use of financial technology resources to expand access to financial services by members and potential members of the credit union industry.
"The NCUA's vision is to 'strengthen communities and protect consumers by ensuring equitable financial inclusion through a robust, safe, sound, and evolving credit union system.' My new position gives me the opportunity to work with the NCUA Board, management, and employees to promote the use of technology in the industry to improve operations and ensure fair and equitable access to financial services," said Vice.
He further explains that credit unions are unique in the financial services sector, as they are not-for-profit corporations and owned by their members. The industry adheres to an endearing motto: "People serving people."
"This results in an industry that places a high value on its members and focuses on actions that help the members succeed," said Vice. "There are some amazing stories of how credit union members were helped during difficult times, when unbanked and underbanked individuals were provided access to financial services, and when credit unions offered services to low and moderate-income communities when other companies moved to different markets. This is why I am so excited to serve the NCUA and the industry in my new position."
Born in Anchorage, Ak., Vice refers to Biloxi, Miss., as his hometown. He attended USM from 1987 through 1990, earning a degree in finance and graduating with honors. Vice credits his time at USM for providing the blueprint to a successful career in the financial industry.
"At USM, I learned to study hard, network, and listen to wiser and more experienced people," said Vice. "My professors were a valuable source of knowledge, wisdom, and advice – as long as I listened to them. My mentors included the accounting, finance, marketing, computer science, and economic professors."
Vice points out that being chosen as USM's Mississippi Young Bankers Convention Scholarship finalist in 1989 helped launch his 18-year career with the Federal Deposit Insurance Corporation. Before taking his current position, Vice also spent 14 years as the Commissioner of the Kentucky Department of Financial Institutions.
Vice stresses that although time and distance do not allow for frequent visits to his alma mater, the University continues to have a profound impact on his life through close relationships with four notable alumni:
Nancy Chandler, his sister, who lives in Vancleave, Miss., and teaches elementary education.
Scott Nyary, a friend from high school, who lives Hattiesburg and leads the Lamar County School District's English Language Institute.
Kevin Olsen, another high school friend, who is a former U.S. Air Force pilot and currently serves as a pilot for a major airline.
Bret Becton, Dean of USM's College of Business and Economic Development, a fraternity brother and close friend.
"It is always great to see our alumni doing well, and Charles has long been a leader in his field," said Becton. "His ascent to this important leadership role is a fine example of what you can achieve with a Southern Miss Business education, and we are very proud to count Charles as one of our own."
Vice explains that his last visit to the USM campus came in 2019 when Becton invited him to address a group of business students.
"I hope that many more opportunities arise for me to return to campus and engage the students," he said. "They are the future of financial technology and are currently working in the field through various financial projects."