Academic Traditions
"Traditions are meant to be as celebrated and cherished as our beloved institution itself."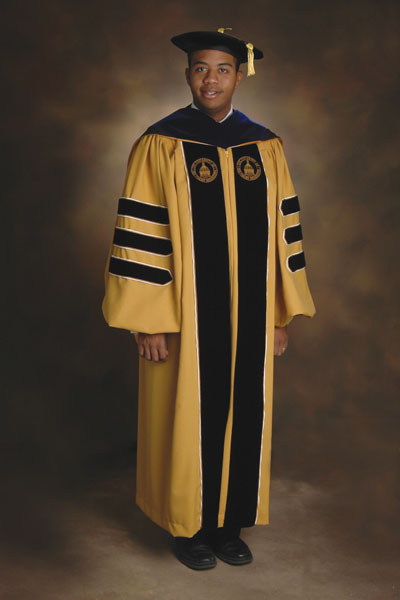 The University honors the excellence of its doctoral graduates with custom regalia. In a stately color of antique gold, with black and white accents and a uniquely Southern Miss design, the regalia were designed by Southern Miss alumnus Dr. Reginald M. Houze '00. The robe boasts custom features with the most distinctive being the University seal, featuring the Aubrey K. Lucas Administration Building dome embroidered in gold at chest level on both velvet panels. The hood adds meaning and dimension to the academic garment, with its color indicating the source of the degree. The Southern Miss doctoral regalia is finished with a six-corner black velvet tam with a gold metallic center button and tassel that are sewn in place.
The mace, a symbol of academic prestige, is carried at the head of ceremonial occasions. It features an eagle that points with uplifted wings to a crown of laurel and is encased in an open orb of sterling silver. With "Southern Mississippi" embossed at its base, the orb adorns a 36-inch ebony staff, banded and tipped with silver. The medallion, which symbolizes the Office of the President, is suspended on a ribbon of black velvet. Like the mace, the sterling silver medallion also features an eagle with uplifted wings to a crown of laurel, signifying honor and distinction. Engraved on the reverse side of the medallion are the names of past Southern Miss presidents and the dates of their administrations. The mace and medallion, designed by Southern Miss alumnus Ronlin Foreman '76, were first used for the inauguration of Dr. Aubrey K. Lucas as University president in 1976 and continue to be used today.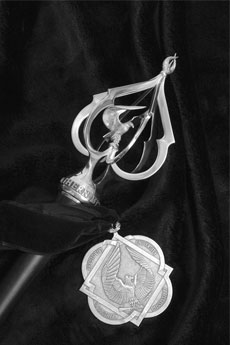 The official ring is one of the most important traditions at Southern Miss. Adorned with images from both the Hattiesburg and Gulf Park campuses, it is not only a piece of jewelry but a piece of history. The ring is treated much like a diploma and is awarded each year at the Official Ring Ceremony, which is hosted by the Southern Miss Alumni Association. Students who receive their rings wear them with the signet-style top of the ring facing them. Once they graduate, they turn the rings and wear them with the "dome" facing away, signifying that they are no longer students but alumni.