National History Day in Mississippi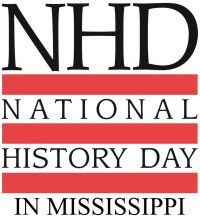 National History Day is a nationwide competition for middle and high school students. It encourages students to use their creativity to develop original historical research focused on an annual theme. The Department of History at the University of Southern Mississippi helps to prepare students for national competition and hosts the annual statewide contest.
Click Here for a list of the 2015 State Contest Winners!
To see a schedule of events from the 2015 state contest, click here.

When: Saturday, March 21, 2015, 8 a.m. - 4 p.m.
Where: The University of Southern Mississippi, Hattiesburg, Liberal Arts Building
Due date for research papers and website projects is February 27, 2015 (due when project is registered online).
Students who participate in the state National History Day contest compete for the opportunity to attend the national competition in College Park, Maryland, and have the opportunity to win scholarships and other awards. To participate, students create a project (group or individual) in one of five areas: video documentary, exhibit, paper (individual only), performance, and website design. Students who participate prepare themselves for college by developing a better understanding of primary source research. National History Day creates better students and citizens.
Looking Ahead to National History Day 2015
The 2015 National History Day Contest is scheduled for June 14-18 at the University of Maryland at College Park. Find anything you need (theme sheet, theme book, sample topic list, instructional materials) at nhd.org under classroom connection.

Report on History Day Nationals 2014
Students, teachers and families represented Mississippi in the best possible way, leaving people from all over the world with a very positive impression of the state. Top winners included:
McComb High School Group Performance, 7th in the nation, also received 'Best of State' Award for Senior Division
Erin Sparkman, exhibit from Forrest County Ag High School, 9th in the nation
Brian Ko, Pascagoula High School website, 3rd in the first room (1 away from finals)
McComb documentary (Alan Wheat), 4th in the first room
Jon Franz, paper from Armstrong Middle School in Starkville, 4th in first room, 'Best of State' for Junior Division
Rachel Williams, librarian/teacher at Gautier Middle School, for serving as a judge
Support for Teachers
The Department of History wants to help teachers by making National History Day a useful classroom resource, something that can enrich existing lessons and reduce the burden on already over-burdened educators.
Check out our NHD in Miss Handbook for Teachers, and then visit our resources page for more information on local collections of historical resources in your area. You'll be surprised to see how many archives and local museums we have all across the state.
In addition to putting teachers in contact with local archivists and museum directors, we offer workshops for teachers (with continuing education credit) and for students, run by faculty from the University of Southern Mississippi's Department of History. If you are interested in bringing National History Day into your classroom, let us know how we can help.