What We Do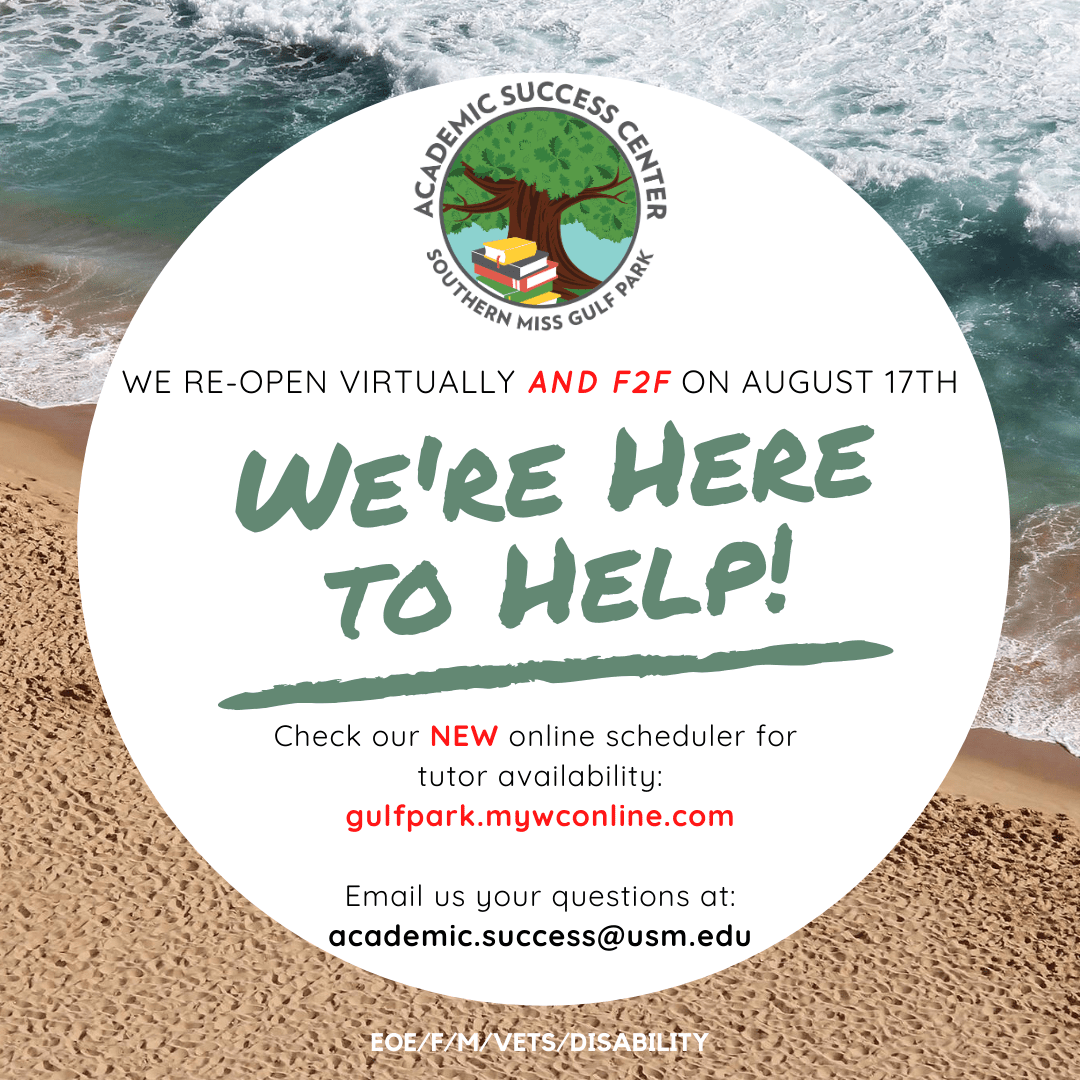 Dear Gulf Coast Students, Staff, and Faculty,
We would like to inform you that we now have our own separate/distinct website for scheduling appointments. You will find us at gulfpark.mywconline.com. The first time you visit our new website, you will have to create a new account. BUT, you only have to do this once, and then you're good to go!
Why not take just a moment right now, hop on over there, and create your account before you need your first appointment? Here are just a few things to remember when registering:
You must now use your USM email address to create an account.
Use the first.last format of your email address, NOT the number format. (Example: Kevin.Walker@usm.edu NOT w1354267@usm.edu.)
Once you submit your registration form, log in to your USM email account and click the activation link before making your first appointment.
There are a few other things to take note of as well:
Even though courses are remote through Labor Day, we are OPEN even for face-to-face appointments. So stop by!
Face coverings are required for services as they are throughout campus.
For now, we will have LIMITED individual study spaces available. Please schedule using our scheduler.
Unfortunately, for now, MacBook checkout and hot drink services are discontinued.
Front desk attendants will help check in all clients.
FOR WRITING APPOINTMENTS: If you are having a paper reviewed by a writing tutor, you must attach a PDF to the appointment form. Do not bring a physical copy unless it is for yourself.
That's a lot. We know! Holler at us if you have questions! We're all in this together!
Our phone number is 228-214-3346 and our email address is Academic.Success@usm.edu.
Sincerely,
Kevin Clark Walker, Ph.D.
Director, Academic Success Center