Thanks for visiting OLLI!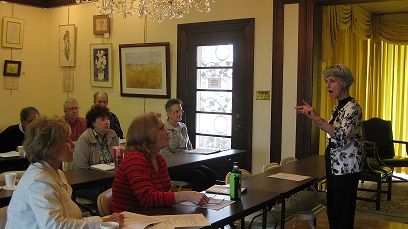 Thank you for your interest in the Osher Lifelong Learning Institute (OLLI) at The University of Southern Mississippi. As you navigate our website I hope you'll find that OLLI is an open and inclusive community of active adults with wide-ranging interests in art, current events, health and fitness, history, literature, music, religion, technology, science, and much more. We believe that learning doesn't stop when you cross a stage or leave a classroom. Learning, as our motto goes, is for life. Just because you spent your career in finance, physics, or forestry doesn't mean gardening, genealogy, and galavanting across the state (or beyond!) are off limits. Don't believe me? Come see for yourself.
We strive to create an atmosphere at OLLI that encourages you to explore your areas of interest and provides a vibrant, stimulating community in which to do so. Our staff and member leaders work tirelessly to bring you courses led by current and retired university faculty, graduate students, and leading community professionals - many of whom are OLLI members themselves. In the midst of all our learning we also like to have a good time. Don't miss out on the social events, special interest groups, and informal gatherings that take place as well.
We hope that you'll come see what OLLI is all about in person. Whether you're in Hattiesburg, Columbia, Laurel, Gulfport, Biloxi, or anywhere in between, we know there's something at OLLI for you. If you're considering relocating to south Mississippi, add OLLI to the long list of opportunities that our corner of the world offers to active adults. We're just a short drive or a phone call away. Hope to see you soon.