3 Southern Miss Student Athletes Injured in Off-Campus Incident
Sun, 11/14/2010 - 14:38pm | By: Beth Taylor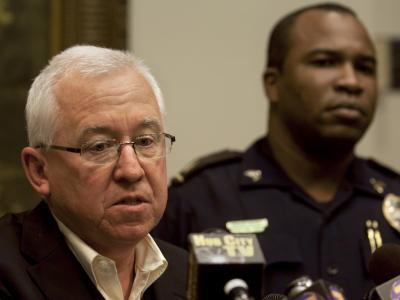 Joe Paul, left, vice president for student affairs, addresses the media Sunday. (Photo courtesy of The Student Printz)
The University of Southern Mississippi has confirmed three of its student athletes were injured in an off-campus incident shortly before 2 a.m., Sunday, Nov. 14, in Hattiesburg, Miss.
The three student athletes, all members of the Southern Miss football team, are presently hospitalized. They are:
Martez Smith, 22, a senior interdisciplinary studies major and linebacker from Canton, Miss.
Tim Green, 21, a junior interdisciplinary studies major and linebacker from Columbia, S. C.
Deddrick Jones, 23, a junior interdisciplinary studies major and defensive lineman from Bastrop, La.
According to a medical official, each of the student athletes was listed in fair condition as of 1 p.m. Sunday.
"At Southern Miss this afternoon our number one concern is for the health and welfare of these students and for their family members who await their recovery," stated President Martha Saunders. "We will do all we can to assist these young men and their families, as well as assist the Hattiesburg Police Department in its investigation of this event."
"During this difficult time our thoughts and prayers are with these three members of our Southern Miss family, Martez, Tim and Deddrick, as well as their families," stated Head Coach Larry Fedora. "These three men are an integral part of the success of our football program and we will continue to keep them in our hearts and hope for a speedy recovery." Fedora is scheduled to hold his weekly press conference, Monday, Nov. 15, at 11:45 a.m. in the Athletic Center.
Mississippi Gov. Haley Barbour called Saunders on Sunday afternoon to express the concerns of both him and his wife, Marsha, for the players and their families. According to Saunders, the governor offered any assistance his office can provide.
According to Lt. Jon Traxler of the Hattiesburg Police Department (HPD) detective division, none of the three Southern Miss student athletes was armed. The HPD is handling the investigation of this incident with the assistance of the University Police Department. The HDP has enlisted the help of the public in asking for information involving the incident. Individuals with information are asked to call Crime Stoppers at 601.582.STOP or 601.582.7867. All information given to Crime Stoppers is confidential.