Pride of Mississippi and Dixie Darlings Have Final Tune-Up For Macys Parade
Tue, 11/23/2010 - 04:54pm | By: Beth Taylor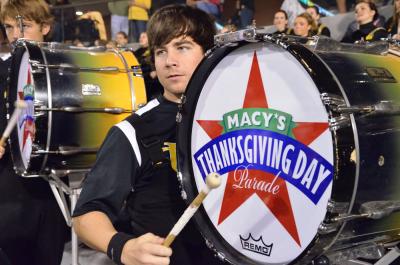 The Pride of Mississippi Marching Band will perform in the annual Macy's Thanksgiving Day Parade in New York City.
It's been a frenzied pace since Saturday for the Pride of Mississippi Marching Band and The University of Southern Mississippi Dixie Darlings in their efforts to get to New York City for this year's Macy's Thanksgiving Day Parade.
The band, under the direction of Mohamad Schuman, had a rehearsal Friday night, Nov. 19, which included a send off by Southern Miss President Martha Saunders. Less than 24-hours later it was the last performance this season in M.M. Roberts Stadium for the game against the University of Houston. Less than five hours later the students boarded busses for a 26-hour, non-stop, trip to New Jersey for their last rehearsal befor the Thanksgiving parade.
"We went straight from the bus to Weehawken High School in New Jersey where we had our final rehearsal," said Alison Crumpton, public relations and marketing coordinator in the School of Music. "From New Jersey we had a spectacular view of the New York City skyline and we were welcomed by the mayor, the principal and the high school band. It was wonderful."
Now that the band and Dixie Darlings are actually in New York City there is some down time before Thursday's big event. Monday night the Southern Miss contingent went to the Top of the Rock at Rockefeller Plaza. Tuesday it was a trip to the Statue of Liberty on Ellis Island followed by seeing "Phantom of the Opera" on Broadway.
One Pride member, a New Orleans, LA., native is no stranger to marching in parades, but admits the Macy's Thanksgiving Day Parade is a "pretty big deal."
"I marched with my high school band in Mardi Gras parades every year," declared Jordan Garrett, a 19 year old political science major. "But this is big, we'll be marching before over one million people." he declared.
While the enormity of the event has registered with Garrett and his contemporaries, the notoriety of their appearance has also hit home.
"It's nice to go to New York City and cool to be a part of the first college group from Mississippi to be in the Macy's parade. But it's good to know our band is up to par, sounding great and looking good," declared Garrett.
The Macy's Thanksgiving Day Parde will be televised on the NBC network. The Pride of Mississippi and Dixie Darlings are the fourth group in the line-up and should be in front of the TV camera about 10:26 a.m. central time, Thursday morning.