Proud Daughter Grows Up to Honor Dad with Lecture Event Featuring Albright
Fri, 10/15/2010 - 13:46pm | By: Beth Taylor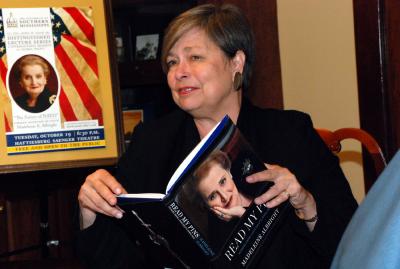 Southern Miss alumnus Dr. Beverly Dale created the Lt. Col. John H. Dale Sr. Distinguished Lecture Series in honor of her father. (Photo by Steve Rouse)
Looking for an avenue to honor her late father, his service to country and community, as well as her alma mater, Dr. Beverly Dale created the Lt. Col. John H. Dale Sr. Distinguished Lecture Series in International Security and Global Policy at The University of Southern Mississippi.
This year the lecture series features former Secretary of State Madeleine K. Albright, Tuesday, Oct. 19 at 6:30 p.m., in Hattiesburg's Historic Saenger Theatre. Her lecture, titled "The Future of NATO," is based upon her service as chair of a group of experts focused on developing NATO's New Strategic Concept. In 2009, Albright was asked by North Atlantic Treaty Organization (NATO) Secretary General Anders Fogh Rasmussen to head this group of experts in redefining NATO's role in a world facing global terror.
Having heard Albright speak and knowing of her link to NATO, Dale decided Albright would be the perfect keynote for this year's lecture.
"I'm an ARMY brat and a military supporter and when I was appointed to the Southern Miss Foundation Board in 2004 I decided to honor my father and mother with this distinguished lecture series,' explained Dale."My daddy was active in the military during the heyday of NATO and would be so proud that we are doing this lecture series and doing it in Hattiesburg," stated Dale.
Lt. Col. Dale, who did two tours of duty as head of the Reserve Officer's Training Corps (ROTC) at Southern Miss, served during the Cold War period when (NATO) was a strong alliance of the United States and European states with an integrated military structure. Lt. Col. Dale was a career member of the military who served in World War II, the Korean Conflict, the Vietnam War and was awarded the Bronze Star.
"My daddy was probably the most formative person in my life and in my success," declared Dale. "He encouraged my brother and me to be anything we wanted to be and he would be thrilled that we are engaging retired military, active military, ROTC and military historians in this lecture; especially Secretary Albright because of her role in NATO."
Dale graduated from Southern Miss in 1968 with a bachelor's degree in microbiology. She later served as a member of the faculty in the Department of Microbiology from 1972 to 1974. As a Southern Miss undergraduate she was president of Delta Delta Delta sorority. Dale, who retired from the health sciences industry in 2005, participated in the introduction of the first FDA-approved HIV viral load test required for the successful monitoring of patient response to HIV drugs. She was a founder and original board member of her husband's company, Salix Pharmaceuticals Inc.
"Dad was a very moral and ethical man who was a stern administrator with high expectations. He was a leader and his officers and cadets had a lot of respect for him," she said. "His legacy is seen in the ROTC program at Southern Miss and continues with the quality of its graduates today."
While Dale, who was recently inducted into the Southern Miss Alumni Hall of Fame, honors her late father with this lecture series, she explains it also honors her mother, the late Margaret Boone Dale.
"Mom was a career Army wife and did a brilliant job. She was a vital part of his success because she made it easy for him to be an Army officer. Mom would be proud for him that we have this lecture series and would rejoice we are doing this with USM and in Hattiesburg," Dale exclaimed.
For more information on Albright's presentation, call 601.266.4315 or visit www.usm.edu/coal.