Soldiers Undergo Hotel Management Training at Southern Miss
Thu, 10/07/2010 - 01:40pm | By: Van Arnold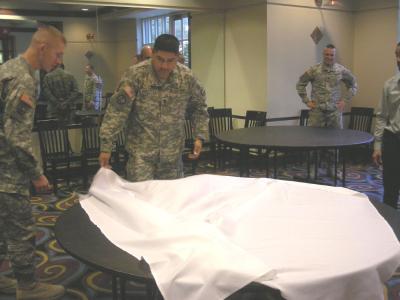 Soldiers from the 166th BSTB JV mission learn the proper techniques for table setting during a one-day seminar on Wednesday, Oct. 6, sponsored by the Department of Casino, Hospitality and Tourism Management at Southern Miss. (Photos by Van Arnold)
In the past year, the Department of Casino, Hospitality and Tourism Management at Southern Miss has provided instruction for not only hundreds of students, but dozens of U.S. soldiers as well.
On Wednesday, Oct. 6, a group of Idaho National Guardsmen stationed at Camp Shelby underwent a one-day crash course in hotel management on the Southern Miss campus in preparation for deployment to Iraq. The 166th Battlefield Surveillance Targeting Battalion will replace the 256th Infantry Brigade Combat Team which has been staffing the Joint Visitors Bureau Hotel in Baghdad since early spring. Soldiers from the 256th took the same one-day course at Southern Miss in January.
"This is very exciting for us to be involved with training of this type," said Dr. Cathy Price, chair of the Department of Casino, Hospitality and Tourism Management. "Never did I ever think we would be providing a service like this to our military personnel. But we're more than happy to help any way we can and look forward to conducting more workshops of this type if called upon."
Southern Miss officials were assisted by representatives from PCH Hotels & Resorts of Alabama for the training session. Soldiers received instruction in the following areas:
Proper methods for greeting hotel guests
How to handle complaints
Importance of body language
Customer service strategies
Front desk and telephone etiquette
Banquet/conference set-up protocol
Table service and housekeeping
For more information about CHTM program at Southern Miss, call 601.266.4659 or visit https://www.usm.edu/business/eco-dev-tourism-sport-management.