South Korean Security Expert Spending Year at Southern Miss Center
Thu, 11/11/2010 - 11:38am | By: Van Arnold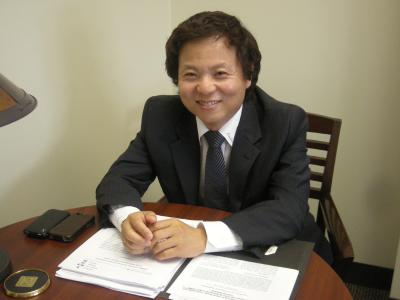 South Korean professor and sports security expert Dong-Young LEE is spending a year studying policies and procedures at the National Center for Spectator Sports Safety and Security at The University of Southern Mississippi. (Photo by Van Arnold)
There is no denying that the Internet has shrunk the distance between cities, countries and entire continents.
For instance, one simple Google search has led to a unique internship arrangement between the National Center for Spectator Sports Safety and Security (NCS4) and Daebul University in South Jeolla, South Korea. Dong-Young LEE, a full-time professor of Police Science at Daebul, is spending a year on the Southern Miss campus to learn more about practices and procedures being developed at NCS4.
"I have been involved in the process of trying to make stadiums more secure for some time so I did a search on the Internet for anything relevant to that topic and I found some information about the National Center here at Southern Miss," said Young. "I talked to my superiors at Daebul and they agreed that spending some time here would be beneficial to our efforts back in South Korea."
In addition to his academic duties, Young is also heavily involved with Olympic organizing efforts in South Korea. He worked as a police inspector in charge of security at Korea Broadcasting System during the 1988 Seoul Olympics and serves as security advisor for the 2018 PyeongChang Olympic Winter Games bid committee.
Before becoming a professor, Young spent 12 years as National Police Inspector, Security and Special Investigation Advisor for Government Committees. In addition to his native Korean, Young is also fluent in English and Spanish.
While attending regular NCS4 staff meetings, studying the center's sophisticated SportEvac software and conducting simulation experiments in the National Sports Security Laboratory, Young hopes to complete specified objectives during his stay in Hattiesburg which include the following:
Preparing better bid files and presentation files for the theme Safety & Security for Korean 2018 PyeongChang Olympic bid
Learn American sports safety and security and share experiences with the staffs
Learn various methods for anti-terrorism of Department of Homeland Security, FEMA or other relevant agencies
"Safety and security is not only the business of government agencies but also everybody's business, matter and issue," said Young. "Security officials everywhere must understand that cooperation, communication and coordination with other agencies, private sectors and communities are vital to protecting citizens."
NCS4 Director Dr. Lou Marciani said having a security expert of Young's caliber on campus for an entire year lends further credibility to the center's mission, while expanding its horizons.
"We are indeed fortunate to have someone of Young's expertise and experience observe our operations here at the National Center," said Marciani. "His background in law enforcement and intricate knowledge of Olympic security operations will be very valuable as we continue to devise and test strategies for stadium security.
"One of our goals from the outset has been to provide best practices and procedures for stadium security across the globe. Having Young share what we're doing here with the people of South Korea certainly enhances that effort."
Young acknowledges the fact that thousands of people congregating in one location make an attractive target to terrorist groups.
"Due to large media broadcasting and attention, the mega sporting events are good places for the terrorists to strike for publicity purposes," he said. "In recent years sports have become more commercialized, or Americanized, thus attacking sports venues or events are the same as attacking directly the heart of Americanism for certain terrorist groups."
Which leads Young back to the reason he is spending so much time in Hattiesburg these days. "The most difficult challenge for sports safety and security officials is how to balance a celebration of sports and protection of the public who seek to have an enjoyable experience," he said.
Established in 2006, The National Center for Spectator Sports Safety and Security was created to provide an interdisciplinary academic environment to further increase sport security awareness, improve sport security policies and procedures and enhance emergency response through evacuation, recovery operations and crowd management training.
For more information about NCS4 call 601.266.6183 or visit www.ncs4.com