Southern Miss President Saunders Honored with Community Hub Award
Wed, 12/01/2010 - 14:48pm | By: David Tisdale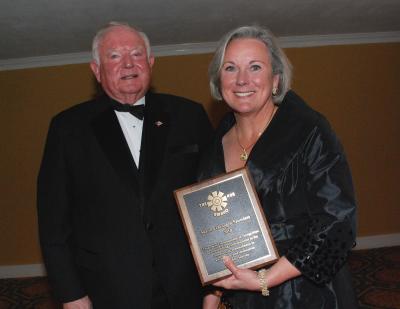 Southern Miss President Martha Saunders is presented the Hub Award by former Hattiesburg mayor Bobby Chain. (University Communications photo by Steve Rouse)
University of Southern Mississippi President Martha Saunders loves her hometown of Hattiesburg. On Tuesday, Hattiesburg said: the feeling is mutual.
Saunders was named the 32nd recipient of The Hub Award, which honors outstanding contributions to the community, commitment to excellence and dedication to public service, during a recognition dinner at the Hattiesburg Country Club.
"Dr. Saunders is dedicated to USM and passionate about it – seriously passionate about it," said Southern Miss Vice President for Advancement Bob Pierce in his introduction of Saunders at the event. "You are an invaluable asset to USM and to Hattiesburg, and we are fortunate to have you."
A graduate of Hattiesburg High School and Southern Miss, Saunders said she cherishes her childhood in the Hub City, where she enjoyed great times with family and friends and was inspired by teachers and mentors to achieve great things.
"I learned good lessons from great role models," she said, and even though she lived away from the city for many years after graduating from Southern Miss, "wherever I lived, I took the lessons from my childhood in Hattiesburg with me.
"I accept this award on behalf of every kid who was lucky enough to grow up here."
Saunders became the ninth president of her alma mater in May of 2007 after having served as chancellor of the University of Wisconsin-Whitewater. She has taught thousands of students during her 30-year career, during which she has also held various administrative positions, including at Columbus State University and the University of West Florida.
Her research and expertise in communication have led to several publications focusing on crisis communications and public relations; widely anthologized public speeches; and the Public Relations Society of America's highest national award for her "Just 2 It!" public safety communication campaign.
Also receiving the Hub Award at the event was William Carey University President Tommy King, who holds a doctorate from Southern Miss.
The origin of the Hub Award came in 1979 when Hattiesburg community leaders honored Southern Miss alumnus and former Hattiesburg mayor Bobby Chain, who at that time served as president of the board of trustees of the State Institutions of Higher Learning (IHL). It was decided that the award would be made annually to honor other outstanding citizens in the community.
A college scholarship is also established in honor of each Hub Award recipient. To date, more than $500,000 in scholarship funds has been raised because of this award.