Southern Miss Restructures Office of University Communications
Tue, 11/23/2010 - 01:57pm | By: Beth Taylor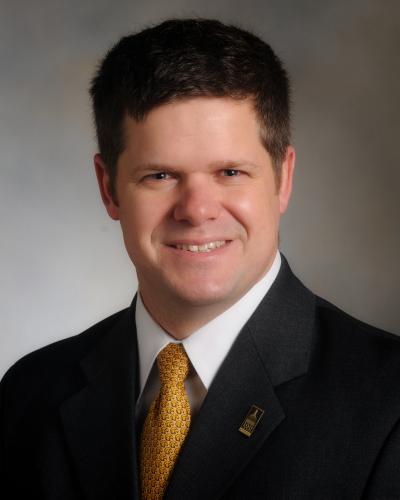 Jim Coll
University of Southern Mississippi President Martha Saunders today announced the restructuring of the institution's Office of Communications, including the hiring of Jim Coll as Chief Communications Officer.
Among other communication objectives, Coll is charged with providing the overall leadership and management of the marketing and public relations functions of the university, including public information, advertising campaigns, interaction with members of the media, and branding.
Coll will lead a staff featuring a seven-person executive communication team. Also on the team are Jana Bryant, who will guide the University's social media strategy; Melanie Gardner, who will continue to manage the institution's marketing efforts; Geoff LoCicero, who will continue to lead the University's web services team; Lynn McCarver, who will continue to direct the institution's printing and creative services; Beth Taylor, who will continue to serve as the University's point person for media relations and information; and Shelia White who will continue to manage the communication needs of Southern Miss Gulf Coast.
"The re-organization of the Office of University Communication gives us a wonderful opportunity to reduce costs while maximizing the talent of our incredible staff," Saunders said. "I am looking forward to working closely with Jim Coll and his Executive Communication Team."
Coll is a double graduate of The University of Southern Mississippi, most recently earning a master's degree in mass communication in 2006. He has been part of the Southern Miss Alumni Association's staff since October 2004, serving as Associate Director for External Affairs and previously as Assistant Director for Communications.
As the Alumni Association's Assistant Director for Communications, Coll was responsible for all components of the development and production of the organization's publications, including its website, SouthernMissAlumni.com, and its quarterly magazine, The Talon. In 2008, that publication was named the top institutional magazine in the state by the College Public Relations Association of Mississippi. Prior to working with the Alumni Association, Coll served in a number of roles as a newspaper journalist, including as managing editor for publications produced by Pittman Communications.
"As an alumnus, staff member and student presently working on my third degree from The University of Southern Mississippi, I am eternally grateful for the numerous and immeasurable ways Southern Miss has positively affected my life," Coll said. "For the past six years I have had the pleasure of communicating with thousands of alumni, each with their own wonderful and beneficial Southern Miss experience. I cannot wait to share those stories, as well as those yet to be written, with all its constituents."
About the additional members of the executive communication team:
Jana Bryantholds a master's degree in public relations from The University of Southern Mississippi and a bachelor's degree from Texas Tech University.

She has been with Southern Miss for 11 years, serving in positions including manager of public relations for the College of Business, and most recently, assistant to the president for University Communications.

During a 20-plus year career in public relations, Bryant also served as director of public relations for the Area Development Partnership, assistant director of public relations at Austin College in Sherman, Texas, and assistant director of women's sports information at Texas Tech. The recipient of a variety of public relations awards at the state and regional level, Bryant is a member of the Pine Belt Chapter of the Public Relations Association of Mississippi and the Southern Public Relations Federation.
Melanie Gardner is an alumna of The University of Southern Mississippi College of Arts and Letters (BA), the Honors College and the College of Business (MBA). Gardner began working in the Department of Marketing and Public Relations, now the Office of University Communications, in 2007 and oversees all marketing for the university.
She is an active member of several major university committees including the Communications Council, the Strategic Enrollment Planning Committee and the Founders' Day Committee. She also served on the Voice of the Century Committee to plan publicity for the university's opening Centennial event, the symphony orchestra's concert with Renée Fleming in Jackson, Miss., and served as co-chair of the Festival South Marketing and PR Committee, where she helped promote the first multi-genre music festival in Hattiesburg. Gardner received the David E. Ford Marketing Leadership Award in 2007 and is a member of Beta Gamma Sigma, an international honor society for collegiate schools of business.
Geoff LoCicerohas been director of Web Services at Southern Miss since July 2009. He previously served in a similar position, director of Web Communications, at the University of South Carolina from 2005 to 2009. He also worked for two years at a university-supported media facility, Newsplex, which pioneered new roles and technologies to help traditional media outlets adapt to delivering content in a 24/7 news cycle.
LoCicero was a page designer and copy editor in sports, news and features at The State, South Carolina's largest newspaper, from 1995 to 2001, and a sports designer/editor at the Birmingham Post-Herald from 1990 to 1994.He graduated from Auburn University in 1989 with a B.A. in journalism and earned a Master's of Library and Information Science from the University of South Carolina in 2002.
Lynn McCarverhas served the university for 24 years in a variety of printing and creative services endeavors. Since 2006 she has been director of Printing and Creative Services. As director, McCarver oversees the operations of university design and printing. She brings more than 30 years of industry experience to meet the challenges of the ever changing technology.
McCarver began her career working at the Hattiesburg American as a page designer and typographer. Later she worked in the advertising and classified department developing experience in all areas of production composition.
During her years at Southern Miss she has worked in the School of Nursing Teaching Learning Resource Center, the Student Printz and now in University Communications.
Beth Taylorhas had a varied, 37-year, career in communications from political public relations, where she served as a liaison to the White House staff, to newspaper and radio journalist, television news and sports anchor/reporter then Assignments Editor, healthcare marketing, ad agency owner, video producer, plus web site designer. During her television career, she was Mississippi's first female television sportscaster.
Taylor has earned more than 100 international, national, and local awards in the communications profession. She was named one of Mississippi's 50 Leading Businesswomen in 2000 by the Mississippi Business Journal. In 1999, the Advertising Federation of South Mississippi awarded Taylor the Silver Medal Award of the American Advertising Federation. In November 1998, she was named one of the Top 100 Video and Multi-Media Producers in the United States by Audio-Video Multimedia Producer magazine. Taylor is a graduate of the 1999 Class of Leadership PineBelt, and a 1977 LSU graduate.
Shelia Whitehas been a member of the Southern Miss Gulf Coast staff for the past 33 years. She earned her undergraduate degree in business administration in 1982 and a master's degree in education in 1987, both from Southern Miss.
White has received dozens of professional awards for her work in public relations at the state and regional levels. She was named the 2002 recipient of the Public Relations Association of Mississippi Professional Achievement Award and was named a Senior Practitioner in 2003 by the Southern Public Relations Federation. She received the Staff Excellence Award in 1995 from The University of Southern Mississippi, has been honored as the Harrison County Schools 1999 Parent of the Year, Mississippi's 50 Leading Business Women in 2000 by the Mississippi Business Journal and was a member of the 1999 Class of Leadership Gulf Coast.