Ellis Johnson Returns to Southern Miss as Head Football Coach
Tue, 12/20/2011 - 05:02pm | By: Van Arnold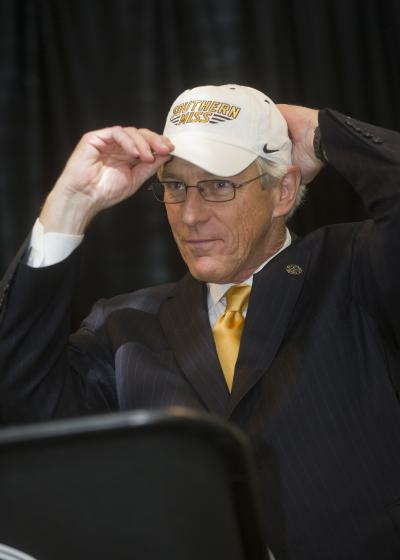 Ellis Johnson was introduced as the new head football coach at The University of Southern Mississippi on Tuesday, Dec. 20, 2011. (Photo by Danny Rawls)
Ellis Johnson, long hailed as one of the country's top defensive strategists, has been named the new head football coach at The University of Southern Mississippi.
Johnson, 59, signed a four-year contract to become the Golden Eagles' 19th head coach pending approval by the Mississippi Board of Trustees of State Institutions of Higher Learning. Financial details have yet to be finalized. Johnson comes to Southern Miss from the University of South Carolina where he has served as the Gamecocks' defensive coordinator for the past four seasons. He also holds the title of assistant head coach there.
"Southern Miss is special," said Johnson during a packed news conference to announce his hiring on Tuesday, Dec. 20. "From the time I worked here it has held a special place in my heart. It's a place where I am convinced you can always be successful."
Johnson takes over at Southern Miss for Larry Fedora, who accepted the head coaching position at North Carolina last week. Fedora will coach the 11-2 Golden Eagles in the Sheraton Hawaii Bowl on Saturday when they battle the University of Nevada.
Johnson is no stranger to Hattiesburg or Southern Miss football, having served as defensive coordinator on Curley Hallman's staff for two seasons (1988-89). His 29-year coaching career also includes stints as defensive coordinator at Mississippi State, Alabama, Clemson and Appalachian State. The Winnsboro, S.C., native also has previous experience as a head coach at Gardner Webb (1983) and The Citadel (2001-03).
Southern Miss President Martha Saunders noted that the search committee began its task with a list of more than 300 candidates. With the help of a search consultant, that group was narrowed to a small number of preferred choices.
"We interviewed them all, did some more homework and prayed about the selection," said Saunders. "Ellis Johnson emerged as the absolute best candidate to lead Southern Miss football at this time – primarily because of his significant experience."
In addition to his defensive coordinator role at South Carolina, Johnson also serves as linebackers coach. This season the Gamecocks (10-2) rank fourth nationally in total defense, allowing 268 yards per game. South Carolina is set to face Nebraska in the Capital One Bowl in Orlando, Fla., on Jan. 2, 2012.
"Ellis Johnson has been described by one of his many noteworthy players as 'a player's coach,' " said Saunders. "He would likely be the players' choice for anyone who played under him and will no doubt connect with our players and fans. He's a great recruiter who understands the South Mississippi dynamics and the importance of filling seats at Roberts Stadium."
In Johnson's four years as director of the South Carolina defense, the Gamecocks have finished in the Top 15 nationally in total defense three times. In addition to this year's No. 4 overall ranking, the USC defense is also No. 13 in scoring defense (18.8 points per game) and second in pass defense (133 yards per game).
"It will be very difficult to leave South Carolina," said Johnson. "Coach (Steve) Spurrier has been great to work for, but this is too great an opportunity to pass up."
A 1975 graduate of The Citadel, Johnson played defensive end for the Bulldogs. He is married to the former Caroline Courie, a Columbia, S.C. native. They have two sons, Eli and Charlie, and a daughter, Sandra Elliott.
What others are saying about Johnson's hiring:
Brett Favre -- "Ellis is a great coach with a winning resumé who knows Golden Eagle football and its fan base. I'm confident Coach Johnson will do a great job."
Steve Spurrier – "We're excited for Ellis. Anytime you lose a coach you're not happy for yourself, but you're happy for the coach. We're happy for Ellis and Caroline. This is a great opportunity. Southern Miss is a place with wonderful tradition. Ellis is not only a great coach; he was also one of our best recruiters. He took the lead on the number one prospect in the country, Jadevon Clowney, last year. He was the lead man and we got it done."
Sylvester Croom -- "Ellis Johnson is one of the best defensive minds I have encountered in my career. He is a leader who is passionate about the game and his players. Southern Miss is fortunate to have him as their head football coach."