Gayle Wicker Urges Graduates to Embrace Service, Pursue Goals
Fri, 12/16/2011 - 05:35pm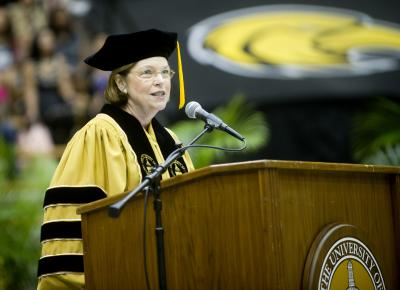 Gayle Wicker, wife of U.S. Sen. Roger Wicker, delivered the commencement address during fall 2011 graduation exercises held Friday, Dec. 16, 2011 at The University of Southern Mississippi. (Photo by Danny Rawls)
It's a time-honored adage that behind every successful man is a great woman. U.S. Sen. Roger Wicker (R-Miss) called upon that woman, his wife Gayle Wicker, to fill in for him Friday at The University of Southern Mississippi's fall 2011 graduation.
Sen. Wicker was unable to fulfill his pre-arranged duties as speaker because of unanticipated legislative obligations in Washington, D.C. Gayle Wicker happily obliged, speaking at both ceremonies held at Reed Green Coliseum on the school's Hattiesburg campus.
Wicker told the graduates, numbering approximately 1,200 for fall commencement, that they would more than likely enjoy success but also encounter shortcomings in life, but not to let the bad times distract them from their goals. "What's great about this country is that we're a land of second chances and many, many opportunities," she said.
She also urged the graduates to do their part to keep American the great republic that it is through their support of their communities, especially through volunteerism. She cited the outpouring of community service following Hurricane Katrina as a great example of the spirit of our nation in coming together to help fellow citizens in need, and urged graduates to harness that spirit as they go forth into the future.
"Go out there and be a part of your community," she said.
Asked about pinch-hitting for her husband as graduation speaker, she said, laughing, "I told him, 'watch what you say you'll do when you volunteer.'"
Two Southern Miss graduates are following Wicker's advice as they plan to use their education to advance their communities and state through public service.
Heather Golden from Ocean Springs, Miss, who received her degree in special education from Southern Miss, will be working with the Hattiesburg Zoo following graduation. She will be working in the education center at the zoo helping plan and implement the toddler classes, camps, field trips and birthday parties.
"I am beyond excited about planning and working the toddler classes," Golden said. "My hopes are to help the zoo build a special needs program and help them make their classes now more assessable for students who have special needs."
Golden is also excited about the Hattiesburg Zoo's upcoming birthday and seeing the new education building completed. She's also interested in early childhood intervention and is thinking about pursuing a master's degree in the field.
Ben Baker of Hattiesburg graduated with a degree in communication studies with a minor in Spanish. He was selected to serve as a Senior Page in the Mississippi Senate from January to May, where his duties will include assisting senators with a variety of assignments in support of their legislative work, including in communications with media and constituents. Her will also serve as a mentor to Junior Pages and help out as a tour guide for the Capital Building in Jackson as needed.
After completing his duties in Jackson, Baker plans to attend graduate school at the University of Texas-Austin next fall.
"I'm extremely excited about the job because it's an opportunity for me to put the communication skills that I have learned at university to the test," Baker said. "I'm also excited about the opportunity to meet and build connections with our State Senators, meeting all the challenges before me, and representing Southern Miss well in the process."