Hattiesburg Mayor DuPree Becomes Member of Southern Miss Eagle Club
Fri, 04/29/2011 - 12:48pm | By: Van Arnold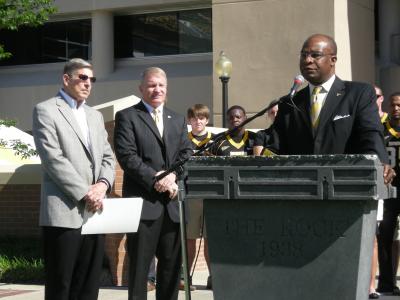 Hattiesburg Mayor Johnny DuPree announces his membership in The University of Southern Mississippi's Eagle Club while Southern Miss Athletic Director Richard Giannini, far left, and Senior Associate Athletic Director for Advancement Jeff Hammond look on. (Office of University Communications photo by Van Arnold)
Declaring, "I believe in putting my money where my mouth is," Hattiesburg Mayor Johnny DuPree became an official member of The University of Southern Mississippi Eagle Club on Friday, April 29 during a ceremony at M.M. Roberts Stadium.
DuPree, who has served as Hattiesburg's mayor since his election in June of 2001, earned his undergraduate and master's degrees from Southern Miss and a doctorate from Jackson State University. A Hattiesburg native, DuPree noted that his Eagle Club membership was overdue.
"My wife (Johniece) and I have been members of several USM organizations, including Partners for the Arts and we have also established a scholarship here for non-traditional students," he said. "We just thought it was about time to lend whatever assistance we could to the student-athletes at Southern Miss who work so hard year-round."
Flanked by members of the Southern Miss Athletic Department and several Golden Eagle athletes, DuPree also proclaimed April 29, 2011 as Eagle Club Day in the City of Hattiesburg.
The Eagle Club provides scholarships for more than 360 student-athletes at Southern Miss. Club membership, which includes preferred parking and seating at all sporting events, is quickly approaching 3,000 with a mission of exceeding 3,011 in 2011.
"I think this membership indicates a level of mutual respect between the mayor and the university, and we're delighted to have him be a part of this important club," said Jeff Hammond, senior associate athletic director for advancement. "Now we need others to follow the mayor's lead and join in our efforts to provide the best for our student-athletes."
For more information about the Eagle Club, call 601.266.5299 or visit http://southernmiss.cstv.com/eagle-club/