Nursing Student Receives $1,000 Scholarship from Biloxi Lions Club
Thu, 01/13/2011 - 14:53pm | By: Van Arnold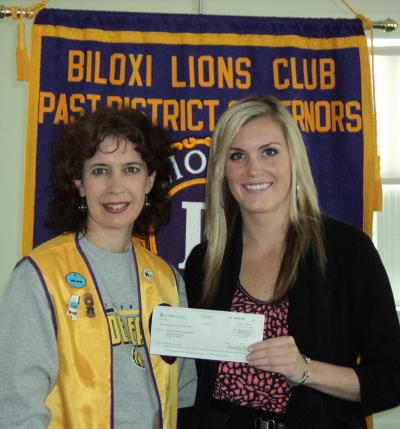 Katelyn Shaughnessy, right, accepts a $1,000 scholarship from Biloxi Lions Club President Suzette Duhe. (Submitted photo)
Katelyn Shaughnessy, a senior in the School of Nursing at The University of Southern Mississippi, recently received the $1,000 Sadler-Lions Club Scholarship presented by the Biloxi Lions Club.
Shaughnessy, a Biloxi, Miss., native, was selected for the award by the scholarship committee after submitting an application that included references and a short essay.
Originally a pre-med student, Shaughnessy changed her major to nursing and harbors no regrets about the decision.
"I am sure that it was the best decision I ever made and am so glad I changed," she said. "Nursing offers so many opportunities and that is why I decided to become a nurse. I would tell anyone that is considering a medical career to go into nursing because it is so rewarding and the professors at Southern Miss are amazing."
Shaughnessy said she is on track to graduate in December and hopes to work in critical care for at least a year before furthering her career as a nurse anesthetist. She is the daughter of Kevin and Kathleen Shaughnessy of Biloxi.