Southern Miss HEADWAE Winners Masters, Wiest Honored at State Capitol
Wed, 03/07/2012 - 11:43am | By: David Tisdale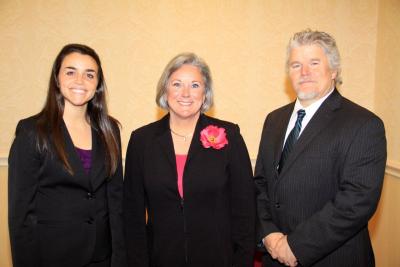 Southern Miss student Rebecca Masters, left, and history professor Dr. Andrew Wiest, right, are winners of the 25th annual HEADWAE awards from the Mississippi Legislature. They were joined by Southern Miss President Martha Saunders, center, following the presentation of the awards Feb. 28 in Jackson. (Submitted photo)
Two of The University of Southern Mississippi's brightest academic stars are recipients of this year's 25th annual Higher Education Appreciation Day, Working for Academic Excellence (HEADWAE) award.
Rebecca Anne Masters of Ellisville, Miss., a student in the university's prestigious Honors College, and Dr. Andrew Wiest, a professor of history and internationally recognized expert on the Vietnam War, were announced as recipients of the award during a visit to the State Capitol Feb. 28.
Both were among HEADWAE honorees from the state's 34 public and private colleges and universities, and were welcomed and recognized by the Senate and House of Representatives for their achievement. An awards luncheon followed.
"It was quite an honor to be selected to represent the Southern Miss student body at HEADWAE," said Masters, a senior nutrition and dietetics major. "Being able to meet Mississippi's legislators as a representative from my university was a wonderful experience."
The HEADWAE award was established in 1988 by legislative resolution to honor academically talented students and faculty members who promote academic excellence at the state's public and private institutions of higher learning.
A Luckyday Citizenship Scholar, in 2011 Masters was named Most Outstanding Female Freshman in 2009. She was elected Student Government Association Attorney General and served as Executive Director of Golden Eagle Welcome Week in 2011. She has participated in the student recruitment group Southern Style (2010); is a member of Lambda Sigma Honor Society, (membership chair in 2009-2010); the Lady Eagles Soccer Team in 2008-2009; the leadership team for Fellowship of Christian Athletes and the Luckday Leadership and Mentor teams; and the Student Dietetic Association.
Masters volunteers weekly at Hattiesburg's Hawkins Elementary School and plans to join Teach for America Corps after graduation. Her long term career goal is to become a community dietician in the Pine Belt after she earns a graduate degree in nutrition and dietetics.
"Throughout my time at Southern Miss, I have been challenged to become a better student and leader, and I have definitely become a more well-rounded individual during the past four years," Masters said. "I'm so proud to call myself a Golden Eagle as I owe who I am today to my Southern Miss family."
Wiest is founding director of the university's Center for the Study of War and Society. He was born in Chicago but grew up in Hattiesburg. After attending Southern Miss for both his undergraduate and master's degrees, he went on to earn his Ph.D. from the University of Illinois, Chicago in 1990.
Specializing in the study of World War I and Vietnam, Wiest has served as a visiting senior lecturer at the Royal Military Academy, Sandhurst in the United Kingdom and as a visiting professor in the Department of Warfighting Strategy in the United States Air Force Air War College.
Since 1992 Wiest has been active in international education, leading a study-abroad program on World War II to London and Normandy each summer and developing the university's award-winning Vietnam Study Abroad Program.
He has published 14 books on various topics in the field of military history, including Vietnam's Forgotten Army: Heroism and Betrayal in the ARVN (New York University Press, 2008), which won the Society for Military History's Distinguished Book Award – the highest award in the field.
Wiest has presented his research at conferences and at invited talks both nationally and internationally, has appeared on several documentaries for the History Channel, Granada Television and Lucasfilms, and has served as a commentator on military events for national news outlets including the SanFrancisco Chronicle and the Philadelphia Inquirer.He served as lead historian for the History Channel's Vietnam in HD.
A member of the Southern Miss Alumni Hall of Fame, Wiest was the 2010 recipient of the prestigious Charles W. Moorman Distinguished Alumni Professor in the Humanities by the College of Arts and Letters in 2010.
"It's a high honor to be a HEADWAE award winner, and even more meaningful that the state chooses to honor the academic and teaching accomplishments of its leading faculty members and students," Wiest said. "Higher education is perhaps more important now than ever before, and it is a great responsibility to help take part in the education of the leaders of tomorrow."