Southern Miss Researchers Study Marine Algae as Alternative Fuel Source
Fri, 12/07/2012 - 12:00pm | By: Layla Essary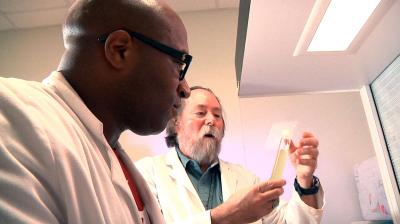 Dr. Donald Redalje, right, professor in the Department of Marine Science at Southern Miss, is conducting research with doctoral student Tommy Pittman, left, on the use of algae as an alternative fuel source. (University Communications photo)
While the United States continues to rely on foreign countries for oil, there's a push here at home to find alternative fuel resources.
Working diligently toward that end are researchers at The University of Southern Mississippi who are participating in an international research project aimed at turning marine micro-algae into fuel.
The fact is -- we rely on it every day -- but how many know its true origin?
"All the oil we are pumping out of the ground, what was it? Most people think dinosaurs. No. It was all marine micro algae," said Dr. Donald Redalje, professor in the Southern Miss Department of Marine Science.
Today Redalje's Marine Science lab at Stennis Space Center is studying algae, grown from Mississippi coastal waters, and recreating that ancient process.
"We now look for one that produces large oil droplets that what became oil in past million years ago," said Redalje. "Now we're finding ways to promote cells to produce a whole lot of these oil droplets."
Already biofuel blends have found their way to naval war ships and test flights on commercial airliners. The trick, says Redalje, is streamlining the process so that it can be packaged and sold.
"We know this works, the trick is how do we produce enough of it, cheaply enough to be a marketable product?"
Southern Miss doctoral student Tommy Pittman has plans to start a biofuel company and believes Redalje has developed a strain of algae that will do just that.
"Technology is developing as we speak," said Pittman. "Here Dr. Redalje has the greatest strain in the world. I've been doing a lot of analysis on it. We know that this stain can go to the next level."
Redalje says we're not quite there yet, but with the help of Duke University, University of Hawaii and others research teams at universities across the world — the project is getting closer, every day.
To learn more about the Department of Marine Science at Southern Miss call 228.688.3177 or visit: http://www.usm.edu/marine