Southern Miss Student Places Third in Paralegal Essay Contest
Wed, 02/29/2012 - 12:03pm | By: Matthis W. Piel III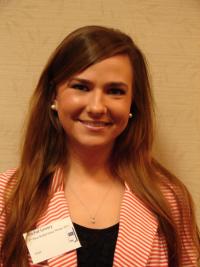 University of Southern Mississippi student Rachel Lowery was recently honored by the Mississippi Paralegal Association (MPA) with a third-place finish in the 2011 Student Essay Contest.
This marks the fourth consecutive year that students from the Southern Miss Paralegal Program have placed in the annual competition. Lowery, a native of Pearl, Miss., received her award during the MPA's January luncheon in Jackson.
"The essay contest is just one more opportunity for the students to practice their writing skills which is vitally important in the legal profession," said Subrina Cooper, assistant professor and director of paralegal studies at Southern Miss.
The students were required to select from three fields of law in which they would like to work and discuss the reason for their selection, as well as the duties of a paralegal within the chosen area of law.
Lowery wrote her essay on family law, specifically on the abuse of children. Following graduation, Lowery hopes to use the legal skills she has gained in the paralegal program to work with abused and neglected children, either as a paralegal or after completion of law school.
For more information about the Southern Miss Paralegal Studies Program visit: http://www.usm.edu/paralegalstudies