Jazz and Calypso Draw Big Names to Hattiesburg for Southern Miss Performance
Thu, 04/11/2013 - 09:24am | By: Mike Lopinto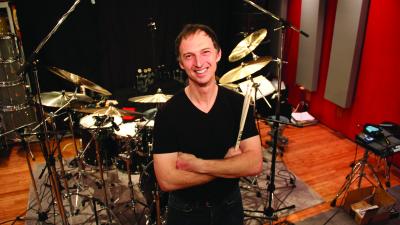 Renowned drummer Mark Walker will perform with the Southern Miss Steel Pan Orchestra on April. 19. (Submitted photo)
The University of Southern Mississippi Steel Pan Orchestra and Jazz Lab Band 1 will be joined by some of the biggest names in music for a special concert at 7:30 p.m. on April 19 at Bennett Auditorium on the Hattiesburg campus.
Tickets are on sale now at the Southern Miss Ticket Office for an exciting evening featuring internationally renowned guest artists Andy Narell, Lord Relator and Mark Walker in a program of classic calypso and jazz. Proceeds will go to the Southern Miss percussion and jazz programs that have been displaced, while losing equipment and facilities from the Feb. 10 tornado.
"This is the most ambitious concert I have ever attempted in my 20 years at Southern Miss," said John Wooton, director of the Steel Pan Orchestra. "The students have been working very hard to maintain a very high standard."
With his first solo album in 1979, Narell took the steelpan out of the steelband and brought it into the jazz band. With every album since, he has explored the possibilities and expanded the role of the pan in contemporary music.
Narell has made more than a dozen albums as leader, one as co-leader with Lord Relator, who is also featured on the program. He has worked with everyone from Bela Fleck, Tito Puente, and Nancy Wilson, to Toto, Aretha Franklin, and even the Kronos String Quartet. He has performed on movie scores by James Horner, Maurice Jarre, Elmer Bernstein, Hans Zimmer, Michel Colombier, and Thomas Newman, and his compositions have been featured in the film "The Firm", and on TV shows like "Designing Women" and "Going to Extremes", as well as commercials for Apple Computers, Sony, andPorsche.
"The combination of steel pans and big band is not entirely new, but usually it's only one or two pan players along with a full big band" said Panella. "This is an entire steel band with an entire big band and it is really something to hear and experience."
Ask any Trinidadian over the age of 30 where he or she first heard of the name "Relator" and they will extol pleasant memories of a brave young boy composing and singing calypsos on "The Auntie Kay Show" - a radio talent-search program upon which he was a regular winner during the early 1960's.
Fascinating the nation with his charm and delivery, Relator was approached to join the professional ranks and by 1979 he was a household name appearing on radio and television commercials for which he wrote scripts.
He has also been featured with international performers such as Billy Ocean, Percy Sledge, Jimmy Cliff and Ace Cannon. He is a showman of exceptional and varied talents including accurate impersonations of Louis Armstrong, Dean Martin and Billy Ecstein, adapting their legendary intonations to calypso.
Nicknamed the local Sammy Davis Jr., Relator is also an accomplished guitarist, playing any stringed instrument from the cuatro to the double bass. When his busy schedule allows, he devotes much of his time to children, making unpaid guest appearances at schools and preparing youngsters for national and inter-island competitions while offering support to charities and fund-raising.
Walker, a five-time Grammy Award, is one of the most respected drummers on the scene. His jazz, Latin jazz and studio resume reads like a who's who of music. He has played concerts and/or recorded with Sammy Davis Jr., Donna Summer, Linda Eder, Peter Cetera, Arturo Sandoval, James Ingram, and Peabo Bryson, to name a few.
In addition to teaching private lessons, labs and ensembles at Berklee College of Music, Walker travels world-wide touring and teaching master classes, clinics and workshops on Latin drumming and percussion. His publications include "World Jazz Drumming" a drum set instruction book and CD covering everything from Uruguayan candombe to Cuban rumba guaguanco.
Tickets range from $10 to $20 and are available at the Southern Miss Ticket Office on Fourth Street, online at www.southernmisstikets.comor by calling 601.266.5418.
A special "sneak peek" performance of some of the numbers will be held at Keg & Barrel Amphitheater on April 14 from 5:30-8:30 p.m. Tickets for that evening are $7 general admission and free for 12 and under. The public is encouraged to bring lawn chairs.