Southern Miss President Announces Purchase of Student Tickets to NIT Game
Thu, 03/21/2013 - 10:01am | By: Jack Duggan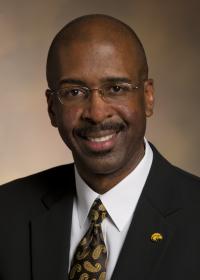 Dr. Rodney Bennett
Incoming University of Southern Mississippi President Rodney Bennett has announced the purchase of 1,000 student tickets for the Golden Eagles' second round NIT game against Louisiana Tech, scheduled for 9 p.m. on Monday.
The tickets will be distributed to the first 1,000 students who show a valid Southern Miss ID at the student entrance to Reed Green Coliseum on Monday evening. Students may begin lining up for the tickets at 7:30 p.m., with doors scheduled to open at 8 p.m., one hour prior to tipoff. Bennett secured funds for the 1,000-ticket purchase through private contributions. Once those tickets are given away, students will need to pay $5 at the ticket office.
"The enthusiasm that the Southern Miss student body is demonstrating for this basketball team and coaching staff makes a difference," said Bennett, who takes office as the University's 10th president on April 1. "Coach Tyndall alluded to the considerable role the crowd played in Wednesday night's win, and we want to ensure this historic season continues for as long as possible. I'm looking forward to joining Southern Miss students, alumni and fans for Monday's game."
The Golden Eagles enter the game with Louisiana Tech at 26-9. The 26 wins are already a single-season record for Southern Miss men's basketball since it became a Division 1 program nearly 50 years ago.