Southern Miss Professor Receives International Education Award
Thu, 12/19/2013 - 10:41am | By: Tara Burcham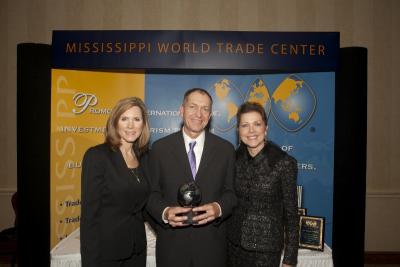 From left to right: Liza Looser MSWTC Board President, Chief Executive Officer The Cirlot Agency; Mark Miller and Barbara B. Travis, Executive Director, Miss. World Trade Center. (Submitted photo)
Dr. Mark Miller, professor in The University of Southern Mississippi's Department of Geography and Geology, has been selected as the recipient of the Mississippi World Trade Center's (MSWTC) 2013 "Excellence in International Education Award." Miller received the award at the MSWTC annual meeting in Jackson, Miss.
According to MSWTC, the selection was based on Miller's "long-standing history of active participation and support of the organization's mission, programs and services." The MSWTC award is "focused on the the importance and value of educating students about the intrinsic value of international trade and cultural exchange to our state's economic well-being."
Each year, the MSWTC presents awards to exceptional individuals for excellence in the development of global arts and culture, international education, trade, international tourism attraction and business leadership. Honorees are selected in these "because of their positive impact and because they serve as inspiration to others."
Miller's work at Southern Miss focuses on regional economic development, and his teaching spans a wide range of geography and economic development courses. He has been active in international education since 1988, taking hundreds of students to Jamaica, Cuba, and Belize.
Miller says he was proud to represent Southern Miss at the MSWTC meeting and is pleased to be recognized for his work in international education. "Whether in Kingston, Jamaica, or Hattiesburg, Mississippi, I love helping to prepare our Southern Miss students for leadership roles in their global careers," he said.
Southern Miss College of Science and Technology interim dean Dr. Patricia Biesiot says MSWTC's recognition of Dr. Miller is much deserved. "Quite simply, Dr. Miller is a master teacher and we are delighted to learn about this current recognition for his excellence in education," said Biesiot.
The MSWTC promotes international expertise, knowledge of global cultures and business practices, professionalism and a willingness to share information so that your students become more competitive in the global marketplace and more prepared for the professional world in general.
For more information about the Southern Miss Department of Geography and Geology, visit http://www.usm.edu/geography-geology. For more information about the MSWTC visit http://www.mswtc.org/.