Southern Miss Student Wins Award at National Entrepreneurs Conference
Tue, 12/17/2013 - 14:23pm | By: Van Arnold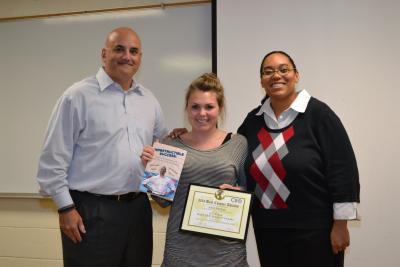 From left: Dr. J.T. Tisdale, director of external relation for the College of Business; Emily Matthews and Dr. SherRhonda Gibbs, assistant professor of management. (Submitted photo)
Emily Matthews, a second-year graduate student in the Department of Chemistry and Biochemistry at The University of Southern Mississippi, captured second place for Best Student Leader Award at the National Collegiate Entrepreneurs Organization Conference held last month in Chicago, Ill.
The honorees were chosen based upon their service and leadership to the student organization, nominations by other students and a faculty advisor letter of recommendation.
Matthews, a Laurel, Miss., native, helped to charter the Golden Eagle Student Consulting Group which is now an affiliate of the Collegiate Entrepreneurs Organization. She also spearheaded a successful 5K fundraiser that donated 25 percent of the profits to Habitat for Humanity.
"Emily is an outstanding student who embodies the entrepreneurial spirit," said Dr. SherRhonda Gibbs, assistant professor of management at Southern Miss, who nominated Matthews for the award.
"I was honored that Dr. Gibbs thought so highly of me to nominate me for an entrepreneur award especially since her class is the only entrepreneur/business class I have ever taken," said Matthews. I took her course to expand my knowledge of entrepreneurship in hopes of one day possibly owning my own company."
College Entrepreneurs Organization is the premier entrepreneurship network with chapters on university campuses across North America and beyond. CEO currently supports entrepreneurship in more than 240 chapters in 43 states. The group's mission is to inform, support and inspire college students to be entrepreneurial and seek opportunity through enterprise creation.