Mead Honored at Retirement Reception Following 30 Years at Southern Miss
Fri, 12/19/2014 - 15:17pm | By: Tara Burcham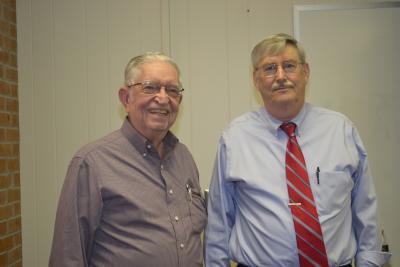 Dr. Lawrence Mead, professor in the Department of Physics and Astronomy, right, and Dr William E. Hughes, former chair of the program who hired Mead in 1984. (Submitted photo)
It was 1984 and the movie "Terminator," with Arnold Schwarzenegger was released along with Apple's new Macintosh computer. And on the campus of The University of Southern Mississippi, Dr. Lawrence Mead began his career as a Golden Eagle.
Mead, a native of Michigan, has been teaching at Southern Miss for 30 years, "Plus one semester," he says jokingly. Mead, professor in the Department of Physics and Astronomy, recently announced his retirement from the University.
Dr. Khin Maung Maung, former chair of the Department of Physics and Astronomy, remembers knowing of Dr. Mead before actually meeting him. "I had this paper written by Lawrence Mead and another researcher and was impressed with the research," said Maung. "After getting to Southern Miss, I did not realize Larry was the Lawrence Mead that wrote the article. Then one day, I put it together. He was at Southern Miss."
Maung, known for his ability to make people smile, remembers meeting Mead in the hallway. "I was a new faculty member on campus and Larry was walking through the hallway quickly. I said hello, and he briskly grunted and kept going. Later when I explained I had read his paper and actually saved it, he began greeting me in the hallway every day."
Dr. Christopher Winstead, current chair of the Department of Physics and Astronomy, remembers Mead as a professor.
"He was very accessible. When I was an undergraduate student at Southern Miss, he was open to helping us when we needed help with problems. The running joke among students was that Dr. Mead was known as the problem solver," said Winstead. "That turned into a challenge with students bringing him new problems from textbooks. It happened so much, that students made him a sign for his door naming Dr. Mead as 'the problem solver.'"
Current faculty and students agreed about Dr. Mead's ability to help them solve problems so much that they gave Mead a plaque celebrating his retirement that states, "Dr. Lawrence Mead, The Problem Solver." The plaque was also inscribed with words often spoken by other faculty: "I don't know. Go ask Dr. Mead."
In addition, the Society of Physics Students gave Mead a plaque honoring him and has decided to name an award after Dr. Mead.
Attending the event to honor Mead was retired professor Dr. William E. Hughes, former chair of the program. "I hired Larry back in 1984 and it was one of the best decisions the department has ever made," said Dr. Hughes.
Winstead said Mead made a huge impact on students, and even molded his future career. "One day, another student and I were standing outside the department office when Dr. Mead approached us to say that we should consider getting our Ph.D.'s in physics. At that time neither of us had thought about it," said Winstead. "Now, I am chair of USM's department and the other student, Dr. Jeff Olafsen, is on the physics faculty at Baylor University."
Mead said he was very happy with the recognition and appreciated faculty, staff, and students coming out to celebrate with him. "I am speechless," he said, choking up just a bit. "I have truly enjoyed my time here and especially my time with the students. Working with them made it worth it."