Popular Children's Literature Author Contributes Materials to de Grummond Collection
Wed, 05/28/2014 - 16:38pm | By: Dawn Smith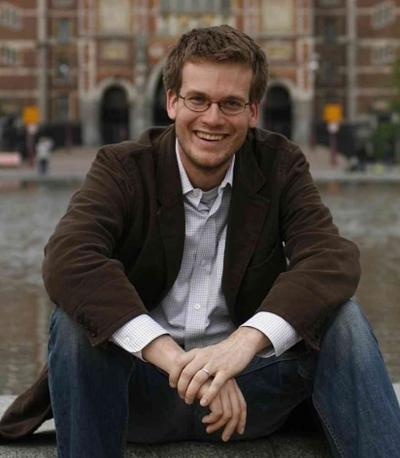 Children's literature author John Green has donated materials related to his work to the Southern Miss de Grummon Children's Literature Collection.
While The University of Southern Mississippi's de Grummond Children's Literature Collection is well known for H. A. and Margaret Rey's Curious George contributions or those of Ezra Jack Keats, it also home to the works of more than 1,200 authors and illustrators, including critically acclaimed author John Green.
Green is a New York Times best-selling author and the name behind The Fault in Our Stars, the popular novel that Green wrote in 2012. The book was later adapted into a screenplay and is scheduled to open in theaters on June 6.
"Sometimes, you read a book and it fills you with this weird evangelical zeal, and you become convinced that the shattered world will never be put back together unless and until all living humans read the book," writes Green in The Fault in Our Stars. Manuscripts, typescripts, articles, speeches, screenplays, and editor's notes from all of Green's books, including The Fault in Our Stars, are held in the de Grummond Collection at Southern Miss.
In one of Green's video blogs he shares what it means to him for his work to be housed in the de Grummond Collection. "I'm donating all the drafts of my books along with correspondence with my editor, Julie Strauss-Gabel, to the de Grummond Children's Library at The University of Southern Mississippi, which means that all the manuscripts will be archived there forever, which is awesome partly because it means I will be sharing a room with the manuscripts of like, A Wrinkle in Time, Peter Rabbit. They have like thousands of famous manuscripts, but I am greatly honored that the de Grummond collection is including my work in their library, I'm so psyched!"
Green's connection to Southern Miss began in 2009 when he was one of the authors scheduled to appear at the 42nd annual Kay B. Kaigler Children's Book Festival. The Festival honors authors and illustrators who have captured the imaginations of children for years. While visiting the campus, Green was able to visit the de Grummond Collection, and because of his strong ties to the South, he made the decision to donate pieces of his writings to the Collection.
The widely acclaimed author of Looking for Alaska, An Abundance of Katherines and Paper Towns, Green's works have become favorites of young adult and adult readers alike. In 2006, he received the Michael L. Printz Award and the Edgar Award in 2009. Additionally, he has twice been a finalist for the Los Angeles Times Book Prize.
Green maintains a large social media presence through his YouTube channel, Vlogbrothers, where he uploads two weekly video blogs with his brother, Hank. Their videos have been viewed more than 200 million times, and their channel is one of the most popular in the history of online video. He is also an active Twitter user with 1.2 million followers.
A native of Orlando, Fla., Green also spent part of his youth in Birmingham, Ala. He attended Indian Springs School, a boarding school in Alabama, where his Southern roots took hold.
For more information about the de Grummond Collection, visit http://www.lib.usm.edu/legacy/degrum/public_html/html/aboutus-welcome.shtml.