Center for Oral History and Cultural Heritage Assists Library of Congress Civil Rights History Project
Fri, 12/18/2015 - 03:04pm | By: David Tisdale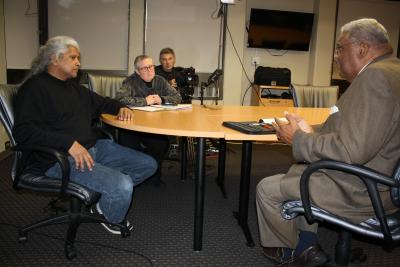 Southern Miss Dean of Students Eddie Holloway, right, was interviewed for the U.S. Library of Congress Civil Rights Project recently on the Hattiesburg campus. The interview team included, from left, Dr. Guha Shankar, project director and folklife specialist at the Library of Congress' American Folklife Center; Dr. Emilye Crosby, professor of history at State University of New York, Geneseo; and John Bishop, videographer and filmmaker. (Photo by David Tisdale)
A project managed by the U.S. Library of Congress (LOC) and the Smithsonian Institution that seeks to preserve the story of America's civil rights advanced their mission recently with assistance from the University of Southern Mississippi's Center for Oral History and Cultural Heritage (COCH).
An interview team working with the national Civil Rights Project recently visited Hattiesburg, where they surveyed the Center's extensive civil rights oral history collection and conducted interviews with local residents who participated in the movement. The Center's staff assisted in facilitating their research and arranging interviews.
The project was launched in 2009 following the passage by the U.S. Congress of the Civil Rights History Project Act, which directed the LOC and the Smithsonian's National Museum of African American History and Culture to conduct a survey of U.S. oral history collections that have material relevant to the Civil Rights Movement, and record new interviews with its participants.
Members of the project's interview team that visited Hattiesburg and USM included Dr. Guha Shankar, project director and folklife specialist at the LOC's American Folklife Center; Dr. Emilye Crosby, professor of history at State University of New York, Geneseo; and John Bishop, videographer and filmmaker.
In 2014, Dr. Crosby delivered one of the keynote addresses during a Freedom Summer Conference held at Southern Miss. She said the Center and those local residents who remained in the community "to carry on the struggle" for civil rights were important resources for the project's work.
"USM's Center for Oral History and Cultural Heritage has been a leader in preserving the story of the movement, and what is important about Hattiesburg is that it's a rich and vibrant community for our work, where we can talk to those who were on the ground in the movement and still live in the area," Crosby said. "We are here to learn from them."
Those interviewed included Raylawni Branch, who along with Gwendolyn Elaine Armstrong became the first African-American students at USM when they enrolled in 1965; Jeannette Smith, who was active in the Hattiesburg civil rights movement and whose husband served as president of the Forrest County chapter of the NAACP; Peggy Jean Connor, who was Executive Secretary of the Mississippi Freedom Democratic Party in 1965; and USM Dean of Students Dr. Eddie Holloway, a Hattiesburg native also active in the local civil rights movement and who later became Hone of the first African Americans elected to the Hattiesburg City Council.
"I'm just happy I lived during that time, and can pass on the information I have for others to learn from," Smith said.
The Civil Rights Project's nationwide survey database includes information about 1,532 Civil Rights Movement oral history and interview collections from 687 libraries, museums, archives, historical societies, and personal collections in 49 states. The collection records in this database can be browsed by repository state, collection title, topic, and can be searched by interviewee name.
Each repository record includes contact information for researchers to get in touch with these institutions directly for more information about viewing and using their collections. The survey database is available on the American Folklife Center's website at http://www.loc.gov/folklife/civilrights/survey/index.php.
From 2010 to 2014, 108 digital video oral history interviews were conducted with 138 activists who were directly involved with the Civil Rights Movement, and additional interviews are slated to take place in 2015-16. Digital videos with full-text searchable transcripts are available online at: http://www.loc.gov/collection/civil-rights-history-project/about-this-collection/.
The Southern Miss COCH's collection, which began in 1971, is considered one of the largest in the South with more than 4,000 interviews on a wide range of topics.
"We're honored we could assist the Civil Rights Project in expanding its database of interviews," said Dr. Kevin Greene, assistant professor of history and co-director of the COCH. "The activism that took place in Hattiesburg was an important element of Freedom Summer and the Civil Rights Movement in general, and the rich collection of civil rights interviews made this an ideal stop for the interview team. We look forward to helping other researchers learn more about this important period in American history going forward."
For more information about the Civil Rights Project's interviews, contact the American Folklife Center Reading Room at http://hdl.loc.gov/loc.afc/folklife.contact and the Smithsonian National Museum of African American History and Culture at nicholsel@si.edu. For information about the Southern Miss Center for Oral History and Cultural Heritage, visit www.usm.edu/oral-history.