Southern Miss Announces Textbook Scholarship, Student Success Plan
Wed, 10/07/2015 - 14:00pm | By: Van Arnold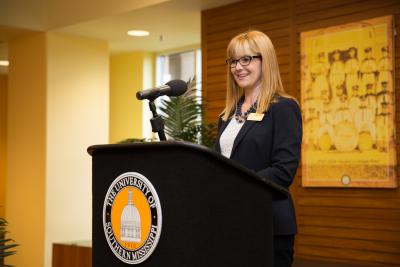 Dr. Amy Chasteen Miller, associate provost for Academic Excellence at Southern Miss, announces the new Barnes & Noble Textbook Scholarship during a special ceremony on Wednesday, Oct. 7. (Photo by Kathleen Dearman)
The University of Southern Mississippi announced two new initiatives on Wednesday, Oct. 7 designed to expand and enrich its commitment to student success. The Barnes & Noble Textbook Scholarship and the University's Quality Enhancement Plan were celebrated during a special ceremony held on the Hattiesburg campus.
Bookstore giant Barnes & Noble created the need-based textbook scholarship fund for Southern Miss students. Over the next four years, the University will distribute approximately $375,000 in textbook scholarships (maximum of $500 per student per year) to students with financial need. The funds for these scholarships will be allocated to individual students on the Hattiesburg and Gulf Park campuses through the dean's office in the college of their major.
"We are very excited to have this opportunity to help our students," said Dr. Amy Chasteen Miller, Associate Provost for Academic Excellence. "Too often we see students who begin the semester without a textbook in hand because they do not have the funds to get the books. Those students then start the term already behind, and the low grades they earn early on can be hard to overcome. Through the scholarship program, we hope to reduce that problem and have more students begin the semester with the books they need."
Barnes & Noble operates bookstores on both Southern Miss campuses. Kathy Hayman, general manager, Barnes & Noble @ Southern Miss, stresses that this kind of initiative helps to keep a University of Southern Mississippi education affordable.
"Barnes & Noble @ Southern Miss is dedicated to finding new ways to increase course material affordability - and ensure that students know about these options from day one," she said. "We are more than just a bookstore. We're an academic and social hub that collaborates with Southern Miss to serve as a support system for faculty and students."
Student success is also the focus of the University's Quality Enhancement Plan (QEP), Eagles Engaged, which will focus on improving the academic performance of students in select gateway courses as well as creating more "pathways" for internships, research, and other career-related opportunities for students as they progress toward degrees.
Miller explains that the QEP reflects the partnership of a variety of offices at Southern Miss, including the Office of the Associate Provost for Academic Excellence, Career Services, the Center for Community and Civic Engagement, and the Office of New Student and Retention Programs.
"This effort will provide students with a higher level of academic support and clearer paths to career readiness," said Miller. "In a myriad of ways, Southern Miss is devoted to helping students get engaged with their classes, involved in their majors, and prepared for successful careers and lives after graduation."
According to Dr. Julie Howdeshell, director of quality enhancement, the QEP is the result of a multi-phase design process based on evidence of need and input of students, faculty, staff, and alumni. The QEP will be submitted to the Southern Association of Colleges and Schools Commission on Colleges in January 2016.