Southern Miss Students Receive National Science Foundation Fellowships
Thu, 04/30/2015 - 14:56pm | By: Van Arnold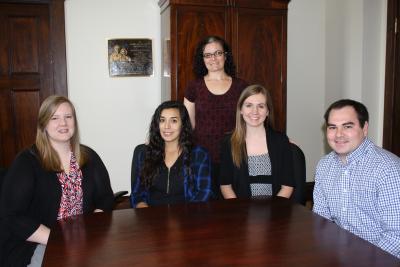 NSF Fellowship recipients include, seated left to right: Laken Kendrick, Cassandra Reese, Abagail Williams, and Dexter Dean. Standing is Robyn Curtis, Officer of National Scholarships and Fellowships at Southern Miss. (Photo by Van Arnold)
Four University of Southern Mississippi students have been awarded prestigious National Science Foundation Graduate Research Fellowships, marking the first time the University has produced this many winners in a single year.
Laken Kendrick, of Hattiesburg, Miss.; Abagail Williams, of Independence, Mo.; Dexter Dean of Clinton, Ala.; and Cassandra Reese, of San Diego, Calif., were granted the fellowships from a pool of 16,500 applicants. No other Mississippi college or university matched Southern Miss in NSF Fellowship winners for 2015.
Southern Miss student Lisa Lauderdale received honorable mention recognition, while two alums – Michael Sims and Travis Thornell – also earned fellowships at the University of Florida and Purdue University, respectively. Nine current Southern Miss students applied for the coveted honor and four were chosen – calculating to a 44.4 percent award rate. The national award rate is only 12 percent, with 2,000 fellows chosen from 16,500 applicants.
"Since 2009, USM has compiled a strong record of success in the NSF competition with multiple fellows selected almost every year. This year, however is our best result ever," said Robyn Curtis, Officer of National Scholarships and Fellowships at Southern Miss. "That our success rate was so much higher than the national average says great things about the quality of research being conducted at USM as well as the mentorship our students are receiving from our faculty."
Awardees represent a diverse group of scientific disciplines and come from all states, as well as the District of Columbia, and commonwealth and territories of the United States. Since 1952, NSF has provided fellowships to individuals selected early in their graduate careers based on their demonstrated potential for significant achievements in science and engineering. The award is a $34,000 stipend annually for three years as well as a cost of attendance allowance covering tuition.
Southern Miss winners:
Laken Kendrick is the only undergraduate from the Southern Miss group. Following graduation later this month, she will be attending graduate school at Vanderbilt University, pursuing a doctorate in Chemistry.
Abagail Williams is a first-year graduate student working with the Lott Research Group at Southern Miss, led by Dr. Joseph R. Lott, assistant professor of Polymer Science and Engineering. She earned a bachelor's degree from Missouri University of Science and Technology in Chemistry with an emphasis in Polymer Science and Coatings. Her graduate work focuses on fabricating glassy, mechanically robust, materials capable of up-conversion.
Cassandra Reese is a first-year graduate student working with the Patton research group at Southern Miss, led by Dr. Derek Patton, associate professor of Polymer Science. Reese earned her undergraduate degree in Chemistry from the University of San Diego in 2014. In July 2014, she co-authored a paper in the Journal of Macromolecules.
Dexter Dean is a second-year graduate student conducting research in the lab of Dr. Vijay Rangachari, associate professor of Biophysical Chemistry at Southern Miss. Dean earned an undergraduate degree in biochemistry from Huntingdon College in 2013. He is currently completing a fellowship in the National Science Foundation's GK-12 program. His research with Rangachari includes seeking a cause/cure for Alzheimer's Disease.
For more information about the NSF Graduate Research Fellowships, visit: http://www.nsf.gov/news/news_summ.jsp?cntn_id=134647&org=NSF&from=news
To learn more about applying for the NSF Fellowship or other nationally competitive awards at Southern Miss, contact Robyn Curtis at 601.266.4263 or robyn.curtisFREEMississippi