Former USM Graduate School Dean Dr. Robert Bob van Aller dies Dec. 1
Tue, 12/06/2016 - 12:46pm | By: David Tisdale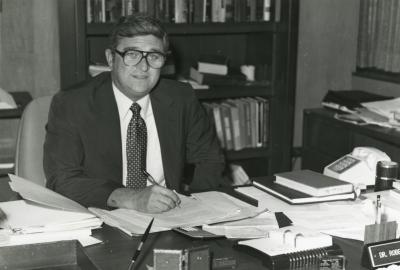 Dr. Robert Thomas "Bob" van Aller, a retired University of Southern Mississippi faculty member and administrator, died Dec. 1. He was 83.
A funeral service will be held at 2 p.m. Wednesday, Dec. 7 at Riemann Family Funeral Home in Gulfport, Miss. with visitation from 1-2 p.m. prior to the service. Interment will be in Floral Hills Memorial Gardens, also in Gulfport.
A native of Mobile, Ala., Dr. van Aller grew up in Gulfport and attended Gulfport High School. He served in the U.S. Navy during the Korean War as a meteorologist, providing forecasts for fleets and mapping fallout patterns for hydrogen bomb testing. Following his military service, he obtained his Ph.D. in biochemistry from the University of Alabama.
Dr. van Aller joined the USM faculty in 1968 as a professor of chemistry, and later served as chairman of its Department of Chemistry; dean of its College of Sciences; dean of its Graduate School and interim director of its Gulf Coast Research Laboratory. He retired from the university in 1998. Prior to his career in academia, Dr. van Aller worked at Eastman Kodak in Kingsport, Tenn. with acetates and polymers, and later worked with NASA's Saturn V Apollo program at the Marshal Space Flight Center in Huntsville, Ala.
"Bob van Aller was an effective and likeable colleague," said Southern Miss President Emeritus Dr. Aubrey K. Lucas. "He served Southern Miss as it transitioned to a significant research university. Bob and his wife, Beverly, were truly beloved by those of us who were privileged to know them."
A co-recipient of one of the American Chemical Society's National Awards, Dr. van Aller was an accomplished researcher, securing numerous patents in chemistry and biochemistry, with the latest coming in summer 2016. While on sabbatical in 1990-91, he served as an advisor to the U.S. Department of State's Arms Control and Disarmament Agency, assisting in preparation of Joint Chiefs of Staff briefings for the president and his staff.
"Dr. van Aller was a gifted researcher who made significant contributions to our discipline, and the University and our department are better today for his service," said Dr. Sabine Heinhorst, chair of the USM Department of Chemistry and Biochemistry.
Dr. van Aller is survived by two sons, Geoffrey Thomas van Aller and Robert Merrick van Aller; granddaughters Courtney Ann van Aller and Katie Samuelson; a daughter-in-law, Sherry van Aller; and his sister, Barbara V. McLure. He was preceded in death by his wife Beverly and his parents, Godfrey Harry and Elsie Swartz van Aller.
Memorials to Dr. van Aller may be made to the National Rifle Association (https://home.nra.org/).