Maugh Funderburk Named Associate Provost for USMs Gulf Park Campus
Mon, 05/02/2016 - 16:10pm | By: Jim Coll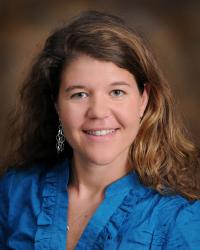 Dr. Casey Maugh Funderburk
University of Southern Mississippi Provost and Senior Vice President for Academic Affairs Dr. Steven R. Moser has announced the appointment of Dr. Casey Malone Maugh Funderburk as Associate Provost for the Gulf Park Campus, effective May 10. Maugh Funderburk's appointment is pending IHL Board approval.
As Associate Provost, Maugh Funderburk will serve as the representative academic officer for the Gulf Park campus and reports directly to the Provost and Senior Vice President for Academic Affairs. In addition to providing support to the academic deans and associate deans in the delivery of programs and courses on the Gulf Park Campus, she will serve as a faculty advocate in teaching, research and service and will lead student success and academic excellence design and implementation initiatives impacting coast faculty and students.
Maugh Funderburk joined Southern Miss in 2008 as the Director of the Gulf Coast Speaking Center and Assistant Professor of Communication Studies. As director of the Speaking Center, she expanded and enhanced tutoring offerings and services to the Gulf Park campus and, in 2011, spearheaded the development of the Gulf Coast Learning Commons.
In July 2014, Maugh Funderburk was appointed Associate Chair of Interdisciplinary Studies and served in this capacity until her appointment as Interim Associate Provost in August 2015. As Interim Associate Provost, Maugh Funderburk finalized the Film Studies Pathway plan with Mississippi Gulf Coast Community College, advanced student success initiatives on the Gulf Park Campus, and has served as a liaison to the Provost's office on all matters of academic concern.
"Working under the leadership of our University administration provides a foundation for continued success across the Southern Miss community in all academic areas," said Maugh Funderburk. "I am honored to be a part of a dynamic and engaged leadership team who are committed to student success and the University's excellence. It is my desire to continue to enhance and strengthen relationships with the administration, faculty, staff, and students in order to provide a strong leadership structure for the work we do on the Gulf Park Campus."
Maugh Funderburk holds a B.A. in Communication Studies from Huntingdon College, an M.A. in Speech Communication from Colorado State University, and a Ph.D. in Communication Arts and Sciences from The Pennsylvania State University.
"I am confident that Dr. Maugh Funderburk will be an invaluable member of the senior staff in the Provost's office and will continue to serve the University and the Gulf Park Campus with distinction in her role as Associate Provost," Moser said.