Professors Book Featured in Syndicated Comic Strip
Wed, 03/16/2016 - 11:17am | By: David Tisdale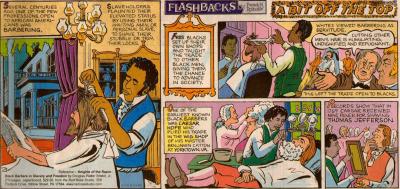 University of Southern Mississippi history professor Douglas Bristol's book on black barbers has been captured by professional cartoonist Patrick Reynolds in his syndicated comic strip Flashbacks.
The subject of a University of Southern Mississippi professor's book has been captured by an artist who brings American history to life in the syndicated comic strip Flashbacks.
Illustrator and writer Patrick Reynolds recently created a series of cartoons about black barbers based on a book by Dr. Douglas Bristol, a history professor at the Southern Miss Gulf Park Campus in Long Beach. These cartoons have appeared in the Washington Post.
In his book Knights of the Razor: Black Barbers in Slavery and Freedom, Dr. Bristol tells the story of how black men used barbering to transform themselves from slaves into successful businessmen and community leaders. Bristol's book argues black barbers called themselves Knights of the Razor because they adopted the motto of "all for one and one for all."
"I'm very grateful to have attention drawn to my book since it has just been reissued in paperback, and flattered to have part of my book become a graphic novel, as it were, through Patrick's Flashback cartoons," Bristol said.
Bristol argues in Knights of the Razor that mutual aid allowed black barbers to establish a successful tradition of black business, while also telling the story of numerous remarkable black barbers. They include John Carruthers Stanley, the largest black slave owner in antebellum North Carolina; William Johnson, whose diary is the best source about life in antebellum Natchez, Miss.; Joseph Rainey, the first African American elected to Congress; and John Merrick, the founder the of the North Carolina Mutual Life Insurance Company, which was the largest black-owned corporation in the world through the 1970s.
Reynolds, who has spent more than 40 years as a professional illustrator and writer, said he enjoys drawing subjects in history that his audiences may not be familiar with. "One of the things that's appealing about Dr. Bristol's work is learning about how the barbering trade was one of the few that were open to blacks, and how they turned into their favor to become quite successful," he said.
For more information about Knights of the Razor: Black Barbers in Slavery and Freedom, visit https://jhupbooks.press.jhu.edu/content/knights-razor. For more information about Dr. Bristol's work at Southern Miss, visit http://www.usm.edu/history/faculty/douglas-bristol. Reynold's work can be found at www.redrosestudio.com.