Southern Miss Alumni Association Hosts Big Three Summer Parties
Tue, 08/23/2016 - 10:14am | By: Nicole Ruhnke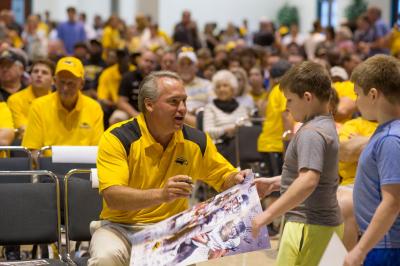 University of Southern Mississippi head football coach Jay Hopson signs a poster for a young fan during one of the Big Three Summer Parties held across the state.
The University of Southern Mississippi Alumni Association, in conjunction with the Department of Athletics and local alumni chapters, recently hosted its annual Big Three Summer Parties across the state. Presented by Keesler Federal Credit Union, these events were held for Southern Miss alumni and fans to celebrate the upcoming 2016 Golden Eagle football season.
"The excitement surrounding the University and Southern Miss Athletics this season is contagious," said Lauren Richards, manager of constituent relations for the Southern Miss Alumni Association. "These summer parties provided alumni, fans and community leaders the opportunity to rally together in support of the Golden Eagles as we all look ahead with great anticipation for a successful football season."
Each event was hosted by the local alumni chapter in conjunction with the Southern Miss Alumni Association and the Department of Athletics. Keesler Federal Credit Union served as the title sponsor for all three events, and local businesses contributed to the success of each party.
"This is the first year Keesler Federal Credit Union has sponsored the Alumni Association's summer parties," said Sharon Kellar, vice president of marketing for Keesler Federal Credit Union. "We're thrilled to be given the opportunity. We're also excited to now offer Kessler Federal membership benefits to Southern Miss alumni and fans. Keesler Federal is proud to serve the students, alumni and the community of Southern Miss."
Collectively, the summer parties hosted more than 1,000 Southern Miss alumni and fans from the Jackson, Long Beach and Hattiesburg areas. Each event was headlined by the Southern Miss football team, coaching staff, cheerleaders and Seymour. Complete with activities for children, live music and photos with Seymour, attendees were able to participate in auctions to raise money for the local alumni chapters' scholarship funds for local students attending Southern Miss.
"The alumni and fan base in Jackson, Hattiesburg and along the Gulf Coast continues to take their support for Southern Miss to the next level," said Jerry DeFatta, executive director of the Southern Miss Alumni Association. "From these summer parties, a total of more than $25,000 was raised for scholarships. As Southern Miss alumni generously invest in future generations of Golden Eagles, we will truly see greatness achieved on our campus and throughout our communities. Thank you to each family, individual and business who partnered with us to host these top-notch and memorable events."
The Southern Miss Alumni Association will host a Membership Appreciation Tailgate on September 17 prior to the USM vs. Troy football game, as well as partner with the Southern Miss Eagle Club to host a series of Eagle Landing tailgates at four away football games during the upcoming season. For information on all Alumni Association events, visit www.SouthernMissAlumni.com/UpcomingEvents.