Child and Family Studies Programs Offer Degree Options for Busy Families
Tue, 02/07/2017 - 09:48am | By: Tara Burcham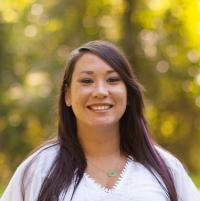 Mya Rome
Mya Rome was juggling a full-time job when she decided to earn her master's degree in Child and Family Studies. Leading a busy life, she was also traveling the U.S. with her husband and preparing for the arrival of her baby girl. That is where The University of Southern Mississippi's online master's degree in Child and Family Studies met her needs.
Rome graduated from Southern Miss with a BSBA in marketing and a BA in foreign languages, Spanish. She knew she wanted to continue her education and was impressed with the quality of education she received at USM, but was looking for something different.
"When looking for a master's degree program, I had a change of heart and decided to select an entirely new field," says Rome. "I chose the Child and Family studies online program at Southern Miss since I was familiar with the school. I reached out to the director of the program and had very pleasant interactions with her, which made my selection very easy."
"I enjoyed the freedom and flexibility of the online program and found the program more affordable than other schools," says Rome. "I loved having the flexibility to study and learn at my own pace in an online learning environment. I was also able to free up my work schedule since I did not have to worry about a class schedule."
Rome says faculty in the Department of Child and Family Studies cared about students and about making the online learning environment enjoyable and engaging. "Although the students came from all over the globe and from different backgrounds, we were very supportive of each other and maintained open lines of communication across multiple platforms. I honestly feel that I communicated more with teachers and classmates in this program than I ever did in a traditional classroom setting," says Rome.
Rome says there are many reasons she would recommend the program. "I loved the teachers. I loved interacting with my classmates. I enjoyed the difficult projects because I felt that I had accomplished so much while completing my degree," she said. "It is such a wonderful program and I would choose it again in a heartbeat."
In addition to the online master's degree that Rome completed, the Department of Child and Family Studies at USM has a new fully online bachelor's degree.
Rome says all of the lessons on relationships, family dynamics, and child development have been useful in her daily life. To hear more from Rome directly about the online program at Southern Miss, watch her tell her story here: https://online.usm.edu/graduate/child-and-family-studies-ms/
The University of Southern Mississippi offers nine fully online undergraduate degrees and twenty-one graduate programs in addition to certificate programs, hybrid degrees, and executive format masters and doctoral degrees. To learn more about available online programs at Southern Miss, visit https://online.usm.edu/programs/