USM Confers Honorary Degree Upon American Television Broadcaster Robin Roberts
Wed, 12/13/2017 - 14:40pm | By: Arlicia Jordan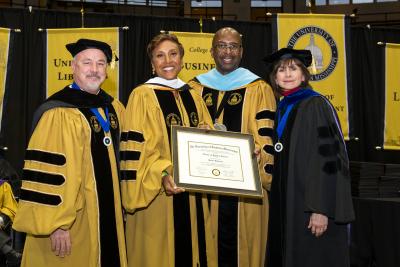 University of Southern Mississippi officials celebrate conferral of honorary degree with recipient Robin Roberts during its Fall 2017 Commencement Dec. 8. Left to right: Steven R. Moser, Provost and Senior Vice President for Academic Affairs; Robin Roberts, co-anchor of ABC's Good Morning America; Rodney D. Bennett, President of the University; and Karen S. Coats, Dean of the Graduate School. (Photo by Kelly Dunn)
Award-winning television broadcaster and co-anchor of ABC's Good Morning America Robin Roberts recently added another credential to her vita. On Friday, Dec. 8, Roberts was awarded an honorary degree during The University of Southern Mississippi's Fall 2017 Commencement.
Conferring a Doctor of Humane Letters, honoris causa, University President Rodney D. Bennett proudly proclaimed Roberts an alumna of USM, citing her career in broadcast journalism and her significant contributions made to communities across Mississippi and beyond. Roberts was hooded by Provost and Senior Vice President for Academic Affairs Steven R. Moser and Dean of the Graduate School Karen S. Coats.
Roberts joins more than 1,000 students who were degree candidates for the fall 2017 semester as new alumni of the University. She was honored during the second of two Commencement ceremonies that took place at Reed Green Coliseum on the Hattiesburg campus.
In response to the honor, Roberts shared brief words of encouragement with the newly-minted USM alums, encouraging them to "dream big, but focus on the small day-to-day things" that will ultimately help them achieve their goals.
"You have put yourself in a position for good things – no, great things," said Roberts. "And I just want to say to continue to put yourself into position for great things to happen. Be willing to make the necessary sacrifices. Dream big and focus small."
Roberts noted that her career in broadcast journalism launched in Hattiesburg, Miss., as a sports anchor for WDAM News 7; and although she had offers for full-time positions, her passion lay elsewhere as a sports reporter.
"I wanted to be a sports reporter. That was my passion at the time. My purpose. It brought me joy. So, remember that: purpose, passion, joy. That's what I felt, and I was dreaming big but focusing small. And I encourage you to do the same thing."
Roberts began her national career contributing to ESPN as a host on SportsCenter and NFL PrimeTime. Today, after more than 30 years of experience in broadcast journalism, she is co-anchor for Good Morning America, a five-time Emmy Award-winning Outstanding Morning Program and the 2017 People's Choice Award-winner for Favorite Daytime TV Hosting Team. She is also the founder of Rock'n Robin Productions, which creates original broadcast and digital programming for ABC and other networks.
Throughout her career, Roberts has been honored with the Walter Cronkite Award for Excellence in Journalism, inducted into the Broadcasting & Cable Hall of Fame and the Sports Broadcasting Hall of Fame, and named one of Glamour's Women of the Year. She was also voted the "Most Trusted Person on Television" by a Reader's Digest poll in 2013.
A native of Pass Christian, Miss., Roberts graduated cum laude from Southeastern Louisiana University with a Bachelor of Arts degree in communications. During the aftermath of Hurricane Katrina, she played a significant role in garnering national news coverage of the Mississippi Gulf Coast. She kept the focus on Mississippi, frequently broadcasting from Pass Christian to serve as a voice for the people living along the Gulf Coast.
Roberts is the author of From the Heart: 7 Rules to Live By and her memoir, Everybody's Got Something, which tells the story of her battle against a life-threatening illness, learning life's hardest lessons, and her inspiring return to the Good Morning America anchor desk. She has been recognized with a George Foster Peabody Award and the Arthur Ashe Courage Award for the strength and courage she has displayed throughout her life and career.