USM Veterans Official Named President of State-wide Organization
Mon, 05/08/2017 - 10:28am | By: Van Arnold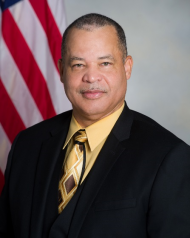 Michael McGee
Michael McGee, Senior Veterans Affairs Certification Official at The University of Southern Mississippi, has been elected President of the Veterans Affairs Administrators of Mississippi (VAAMS).
VAAMs is a statewide organization consisting of college and universities dedicated to improving services to student-veterans, service members and their families. VAAMs was created in 2006 for the purpose of promoting and providing for student-veterans to ensure their VA-related educational support services are met.
During the most recent VAAMS Conference conducted at USM, members elected McGee to assume the role of president for the next two years. McGee retired from the Army following a 23-year career and continues to serve assisting military students with the USM Center for Military Veterans, Service Members and Families.
"I am honored to be of service to our student-veterans and in particular to those across the State of Mississippi who eagerly serve in higher education to better the future for those who have served our nation," said McGee.
Mississippi has 100 VAAMS members who work together to promote professional competency, efficiency and further facilitate communication between educational institutions (and sponsors of veterans programs) through an exchange of ideas, information and experience.
"We are honored and exceptionally proud of Michael McGee's selection as VAMMS President for 2017-18," said Maj. Gen. (ret.) Jeff Hammond, director of the USM Veterans Center. "Michael is well-known across the USM campus and throughout Mississippi as a caring mentor who actively supports the needs and interests of military students. I cannot think of a more qualified leader to facilitate the statewide Institutions of higher learning in improving support services to our student-veterans."
For more information regarding VAAMS please visit the following website: https://www.vaams.org/about-vaams