USM Vice Provost Miller Pens Essay on Teaching and Student Success
Mon, 11/27/2017 - 09:55am | By: Van Arnold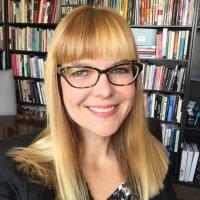 Dr. Amy Miller
Dr. Amy C. Miller, professor and Vice Provost for Academic Affairs at The University of Southern Mississippi, is a featured essayist in the latest edition of Change: The Magazine of Higher Learning.
Miller joined other higher education officials from across the country in sharing insight on the topic, "Teaching and Student Success: ACUE (Association of College and University Educators) makes the link."
"We are honored to be featured in Change: The Magazine of Higher Education alongside other institutions making significant gains in faculty development and engagement," said Miller. "I know that our faculty fellows have worked very hard as part of the ACUE community, and I am so excited to call attention to their efforts and accomplishments."
In an excerpt from her essay, Miller writes:
"Success breeds success. Our faculty are now emboldened to try more things, which has led to even greater classroom impact. ACUE is helping to drive a culture of teaching excellence at Southern Miss and engender a sense of belonging among our faculty, advancing our dual commitments to student success and retaining high-quality faculty."
She stresses that USM's partnership with ACUE has been absolutely integral to the success of the University's Faculty Development Institute.
"Through working through the ACUE Course in Effective College Instruction, our faculty fellows have learned about best practices, experimented with their own teaching techniques, and observed different faculty from around the country in their own work (through video)," said Miller. "ACUE provides an evidence-based foundation to help our good faculty to become even better, and the community we are developing through our Faculty Development Institute has been an incredible source of support and inspiration to the participants."
To read Miller's full essay, visit: http://acue.org/change/